The Barbican is a residential complex built over an eleven year period on an area of devastating bomb damage in WWII. It comprises thirteen low-rise terraced blocks and three 42-storey towers rising to 404 feet in height.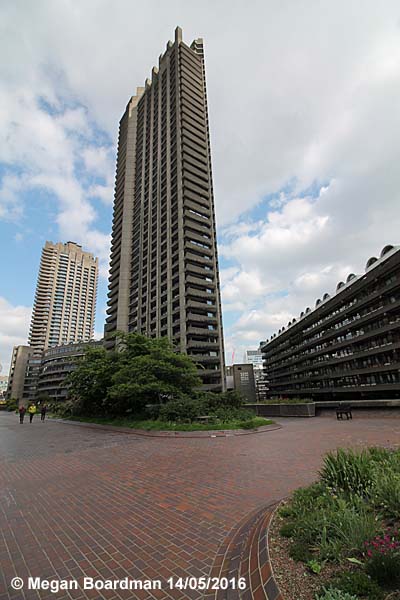 The towers were given the names of Cromwell (below), ....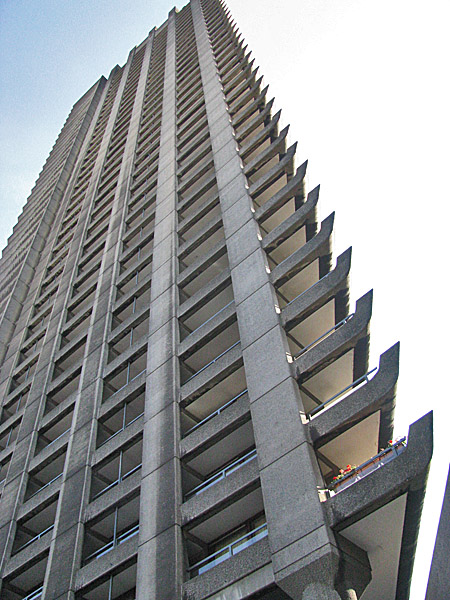 ...... Shakespeare and Laudredale (below).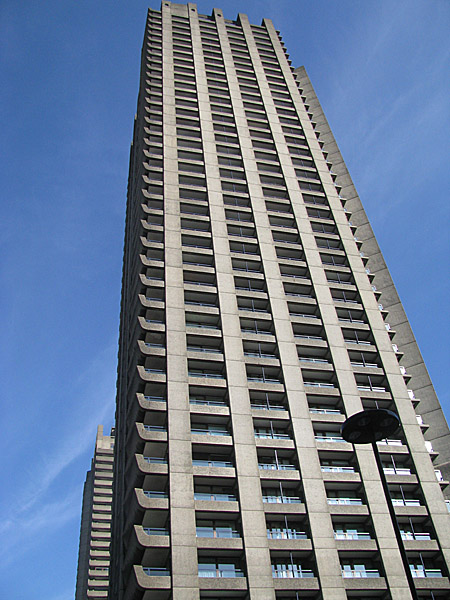 The site also includes the Barbican Arts Centre, ....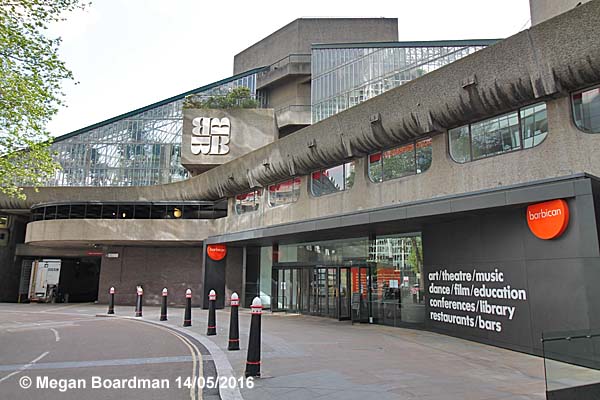 .... the City of London School for Girls, The Guildhall School of Music and Drama, a YMCA building ...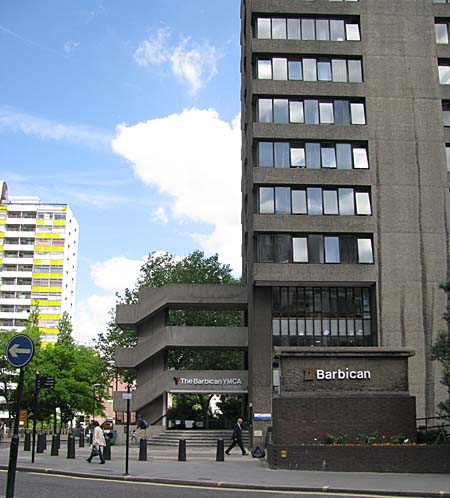 .... and the Museum of London.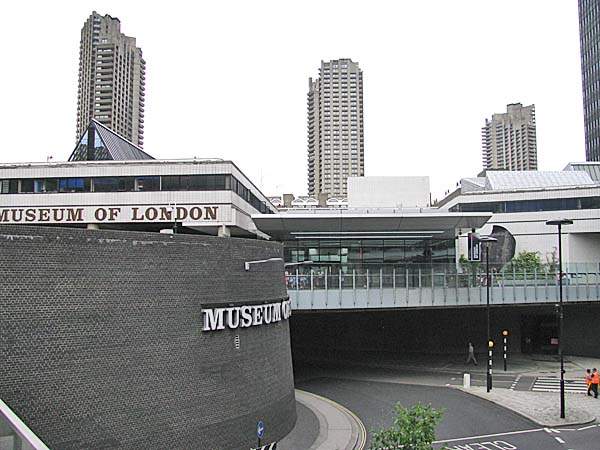 The buildings are arranged around pedestrian areas connected by deck access. The internal areas feature piazzas, gardens and a lake.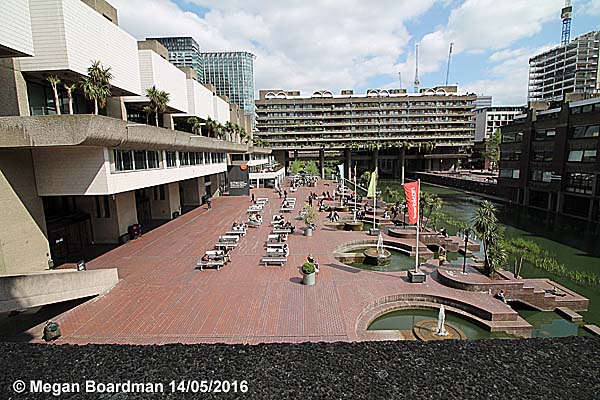 The water in these various features is quite shallow and dyed green because otherwise it would reflect the gray buildings.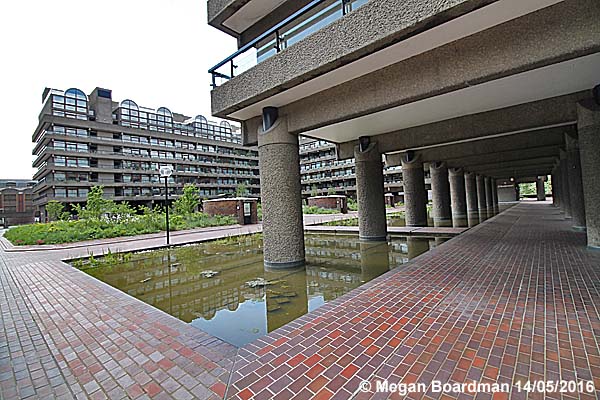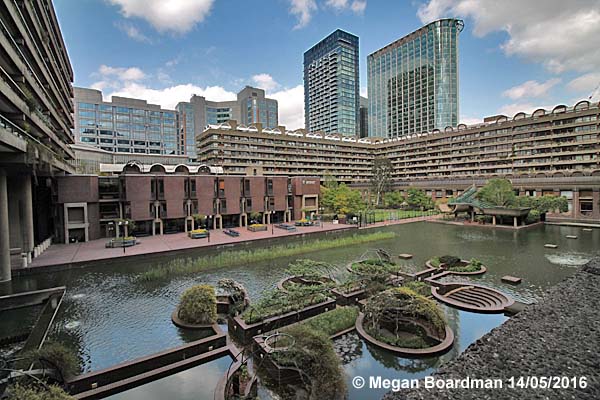 The predominent construction material is concrete with facings of Penlee granite from Newlyn in Cornwall.
Pevsner says of the Barbican that,

"There is nothing quite like the Barbican in all of British architecture.It combines two favourite concepts of radical post-war planning: the traffic-free housing precinct linked by elevated walkways, and the giant multi-functional "megastructure", to use the jargon of the time."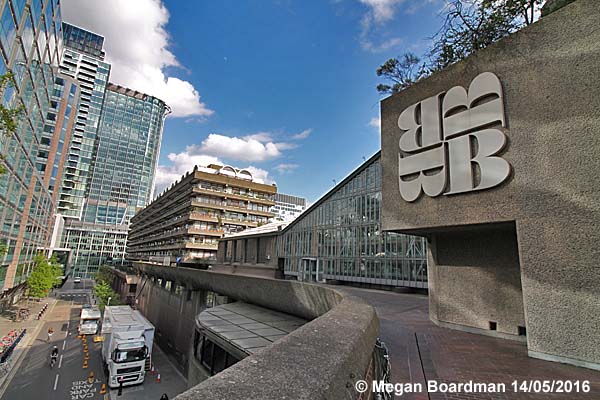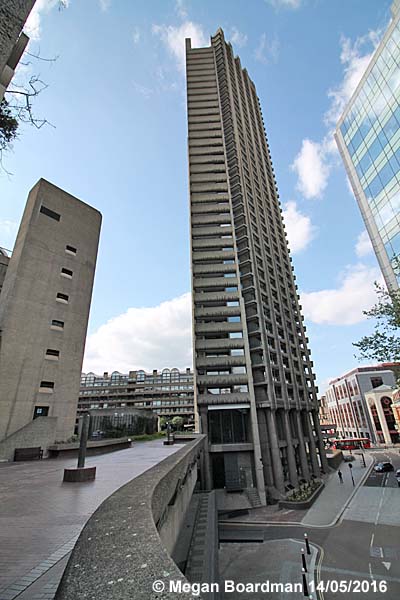 In an article in the Telegraph, in February of 2002, Giles Worsley, said this about the Barbican, "The Barbican in the City of London has long provided the Gold Standard for those who believe Modern architecture failed in the decades after the Second World War. Like "the South Bank", "the Barbican" became a shorthand for everything that was wrong about the Sixties and Seventies: grey, streaked concrete; tower blocks; high-level walkways; council housing; expensive; gratuitously ugly; isolated from the city; and, above all, confusing - hideously confusing. ....... This is no commonplace, system-built estate designed by architects obsessed with functionalism for a council seeking to house as many people as possible, as cheaply as possible. It is architecture shot through with multiple meanings and references that deserve to be carefully unpicked. It was certainly not cheap, being deliberately built for affluent tenants to a much higher level of specification than a standard council estate and carefully maintained ever since. What is more, it works. With its varied types of flats, its security, its calm, its greenery and its views, the Barbican has been very successful - as housing."