Belle Vue Aces History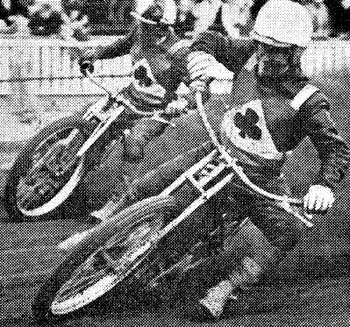 Dick Fisher and Soren Sjosten
- Image donated by Lynda Lynch -
At its best it was a place of magic to a kid from the charmless terraced streets of Longsight. Belle Vue was a Saturday night of speedway and fireworks. The evening began with the family walking together down New Bank Street, under the shadow of the 12 foot high brick wall that defined the edge of the railway yard, up the ramp towards Longsight Station and then down and under the station along the tiled underpass that smelt of gas and steam engines dreading a train would come through the station and thunder over my head.
Out the other side and across the croft to Redgate Lane weaving through the charas and the growing crowd heading for the entrance to the speedway stadium at the corner of Hunter's Lane.
Once in through the gates you were hit by the smell of frankfurters and onions at the food stand and the sound of men selling programs.
The stadium had a smell of its own, a mixture I suppose of motorbike exhaust and lingering dust clouds that settled on the crowd after the bikes skidded sideways four abreast around the bend. The tension of the start and the race to the first bend and the glamour of our golden-haired world champion ripping through the opposition and pulling away to win.


Then when the races were over it was pushing through the crowd to get into the pits to see the bikes up close and the shock to discover that Peter Craven looked like a little kid up close. The thrill of talking to a world champion and him signing his photograph for me. What did I do with that picture?
CONTINUED --->