The Belle Vue Aces

Speedway came to the Belle Vue area in 1928. The first meeting being held on July 28th but not in the park itself. The meeting on that day took place in the greyhound racing stadiuum on Kirkmanshulme Lane. It wasn't long though before John Henry Iles, the man who ran the Belle Vue Company, recognized the potential of speedway as an attraction and he bought a controlling interest in the club and moved it into the park giving the club its own stadium. The first meet in the Belle Vue Stadium took place in March of the following year.

The first manager of the team was E. O. Spence and he stayed with the club until 1941. Johnnie Hoskins, who had been instrumental in bringing speedway into the country back in the 20s, became the Aces manager in 1952. It was Hoskins who introduced Stock Car Racing in 1954.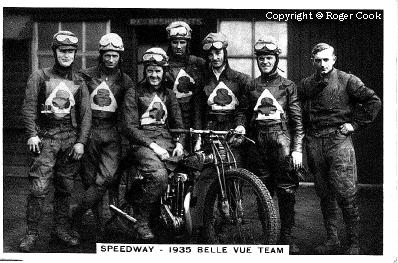 The photograph of the 1934 Aces is shown here with the permission of Roger Cook. Please visit Roger's Web Site and take a look at his interesting collections of material on: photography, sports, science, collecting things and travel.
The images of Eric Langton, the England Test Team, The 1961-62 Aces Team and two of the Peter Craven photographs are shown here with the permission of Chris Byles. Chris is the webmaster of the excellent History of Exeter Speedway web site. Give him a visit, you won't regret it.
---
All the material on this web site is © David Boardman, unless otherwise stated, and may not be copied, downloaded or otherwise reproduced or retransmitted without the written permission of the webmaster.
Any contravention of the copyright of others is unintentional and will be corrected immediately when brought to the attention of the webmaster.