"The most elaborate and expensively built of all amusement devices is the one known as the Scenic Railway, and the one that has been erected for the benefit of visitors to the WHITE CITY is second to none in its equipment and in its wonderfully fascinating movement as the cars travel over the rails.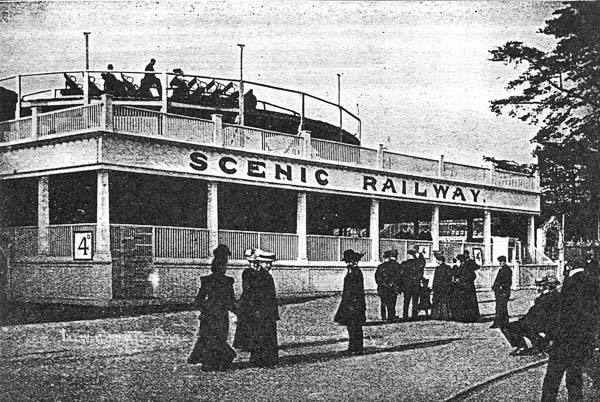 Tlis ride is nearly a mile in length, and is not to be equalled by any similar ride in Great Britain. The cars are fitted with ball bearings, and are as comfortable to ride in as it is possible to make anything going at the same speed. The 'SCENIC HOUSE,' which is in fact a series of tunnels automatically lighted by electricity as the trains pass through, shows a number of beautiful scenic effects that add much to the pleasure and to the surprises of the ride.
The sensations of enjoyment, and the real novelty makes the 'Scenic Railway' one of the devices provided by the WHITE CITY that should not be missed. From grand-parent to grand-child, all ages agree that this ride is the most enjoyable that could be provided, and once indulged in, it is·certain to be visited again."
(excerpt from the 1909 program)