This former police station was built in 1879. Today it is the Greater Manchester Police Museum. The museum web site says this of their facilities:
"Imagine stepping back in time to a Victorian Manchester, not the city of commerce and corporate splendour but a hidden city of gas lamps and narrow alleys, of slums and unruly alehouses. Now imagine a busy police station in the heart of that city from where police officers arrested criminals and upheld the law. History is brought back to life at the Police Museum.
"
Below you can see the police station in 1910. It shows an education class underway. The image is shown here with the permission of the Greater Manchester Police Museum and Archive. You can see more historic images at their
Flickr Photostream
.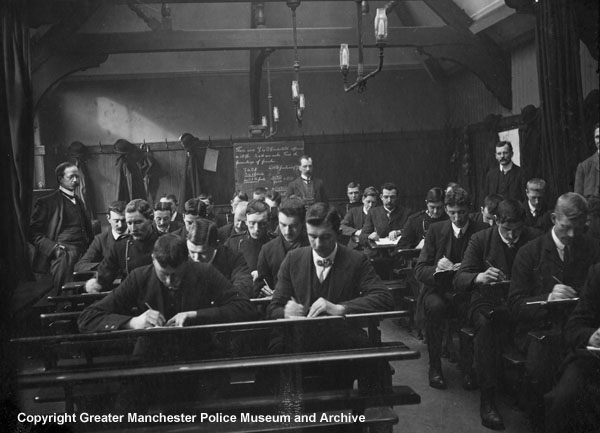 The Museum adds that if you
"Venture into the original Victorian cells with their wooden pillows and the Charge Office of Newton Street Police Station where time has stood still for over 120 years. Explore our galleries containing historic police equipment and uniforms from the region. Uncover the fascinating world of forgery and forensic science. Admire the polished wood panels and stained glass of our genuine 1895 Magistrates' Court. Our transport gallery contains a variety of vehicles used by the police from the 1950s to the modern day."