This footbridge spans the River Irwell from a point adjacent to the Mark Addy Public House, on the Salford side, to Spinningfields on the Manchester side of the river. It represents an important element in the redevelopment of the Irwell Riverside area and provides a convenient link between the offices of Spinningfields and the city centre with Salford Central Station. It is intended to increase footfall for Mark Addy's and the restaurants of Spinningfields.
The Salford Council website says that,
"The estimated costs of the Irwell Pedestrian Footbridge (including associated public realm improvements) is £2.3 million. Match funding for this project will be provided by Allied London (developer for the Spinningfields area) with a contribution from Salford City Council and a 50% contribution towards the cost of these works from the European Regional Development Fund."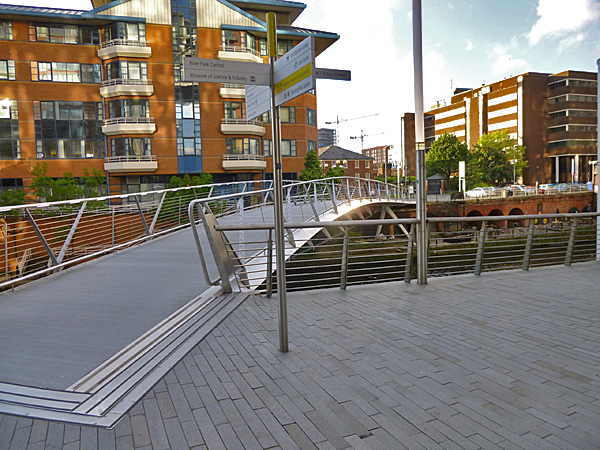 Lighting Technology Projects (LTP) were tasked with illuminating the bridge. On their website they say that,
" .... the team specified 104 UniLED lights, evenly ensconced into both sides of the handrail to provide pedestrians with a safe and well-lit area when accessing the bridge during the hours of darkness. ... The underside of the bridge itself received an impressive colour changing aesthetic lighting setup that was provided to highlight and emphasise the stunning structure."