The Manchester City Council web site says of the park: "Swinton Grove Park originally formed the grounds of 84 Plymouth Grove, then sited on the rural-fringe of Manchester." In the 1844 map below you can see the site occupied today by the park shaded in the darker green. In the corner of Plymouth Grove and Lincoln Grove you can see two large semi-detached houses occupying the corner of today's park. As the quote from the city council says the area, which is a short walk from the city centre, was very rural.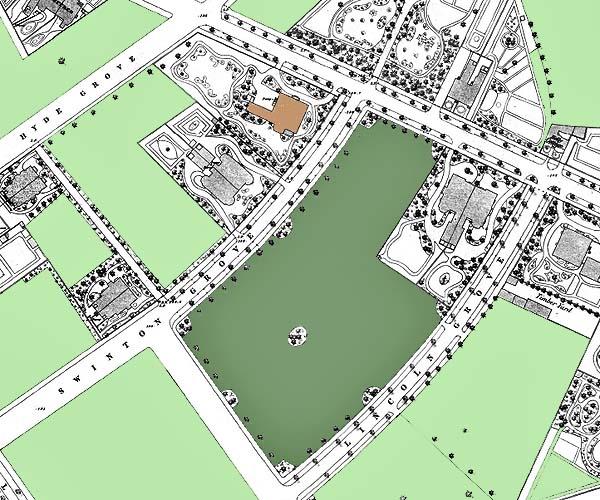 Across Swinton Grove from the park is 84 Plymouth Grove (coloured brown on the map). Five years after this map was published, this house became the home of the Gaskell family. Elizabeth Gaskell lived here during a period in which she did much of her writing. Today she is recognized as a prolific and celebrated author who wrote contemporary social commentaries on the problems faced by working class people in industrial cities like Manchester.
Here is a view of the park in an RAF aerial photograph taken in the 1950s. You can see the Gaskell House nearby, indicated by the red arrow. You can also see that there were two bowling greens at the Plymouth Grove end of the park.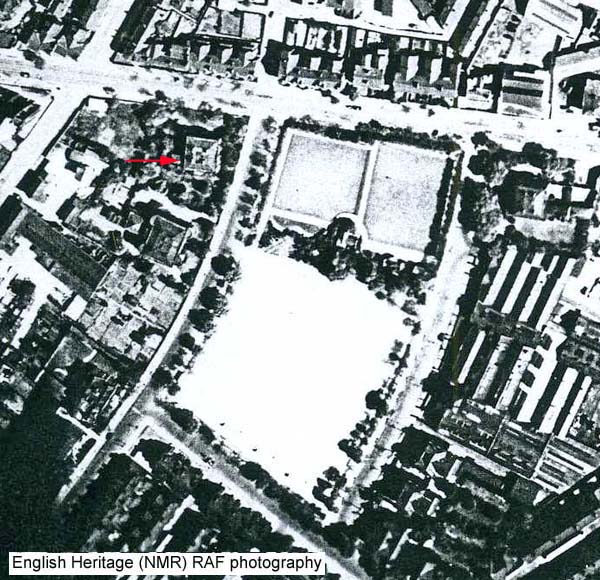 The grounds were acquired by the City Council to be used as a playground and became known as Plymouth Grove Green. The council tells us that the park underwent extensive regeneration in 2003 and now offers: "a community garden, new play area, multi sports area and picnic facilities." It is seen again in the photograph below by Keith Williamson.