Humphrey Chetham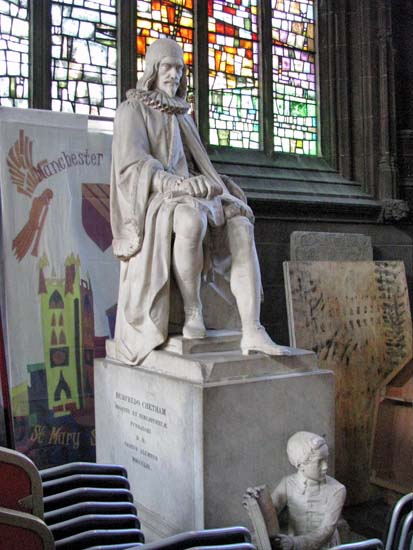 Humphrey Chetham was born in Crumpsall in 1580. He was the fifth son of a successful merchant who lived in Crumpsall Hall. He was educated at Manchester Grammar School before taking up an apprenticeship with a draper. In later years he went into the textile business with his brother George and they both became very wealthy.

He was appointed the high sheriff of Lancashire and then General Treasurer of Lancashire. Fearing that after his death the government would take much of his wealth he made a donation to set up a school in Manchester. The original Blue Coat School accommodated 40 boys and later became Chetham's Hospital and then Chetham's School of Music. He also left money to form the Chetham's Library. The statue in Manchester Cathedral was commissioned to commemorate his patronage.

The statue was executed by William Theed in 1853. He was the scultor of the statues of Gladstone and Bright for Manchester Town Hall and of James Watt in Piccadilly.