Victoria Mill is a former textile mill beside the Rochdale Canal in Miles Platting. The six-storey structure is composed of two symetrical mill blocks separated by an engine house.

The chimney rises within a stair tower and at roof level there is a gallery of windows offering a 360 degree view of the area. In March of 2011, when these images were taken, the mill was in wonderful external condition and was a busy and important community facility, home to apartments, an adult learning centre, and NHS offices.
The mill was built in two phases in 1869 and 1873 to a design by the famous Bolton architect George Woodhouse. The mill was built for William Holland who moved his textile business to Miles Platting from his Alelphi Mill in Salford.
Pevsner describes the Victoria Mill as,
"a building of great presence and a landmark in the area."
Woodhouse was responsible for the design of numerous mills around the UK including the Bliss & Son's Tweed Mill outside Chipping Norton, in Oxfordshire. As you can see from the image below, it has a similar chimney/stair tower arrangement.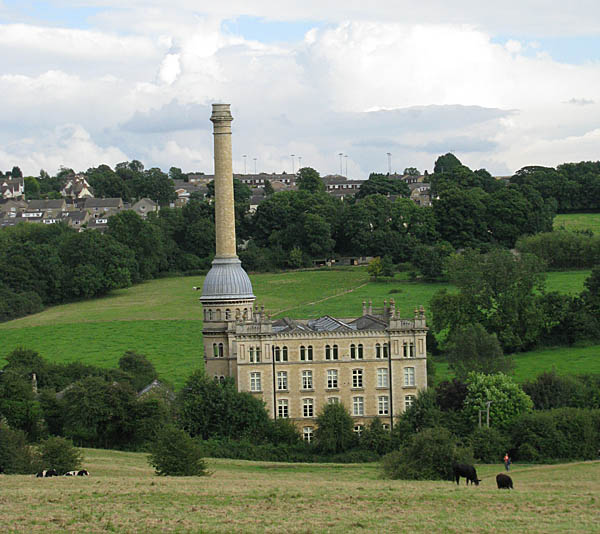 William Holland was the second son of William Holland, a cotton spinner from Higher Broughton. In 1872 William became a partner in the family business William Holland and Sons.

He became prominent in the textile industry, becoming chairman or president of the Fine Cotton Spinners and Doublers Association, the Textile Institute, the Machinery Users' Association and the Manchester Chamber of Commerce. He went on to become an alderman on Manchester City Council and then the MP for Salford North. He was knighted in 1902 and in July 1910 he was made Baron Rotherham of Broughton, in the County of Lancaster. His involvement in William Holland and Sons came to an end in 1898.
My version of a 1928 map of the area, shown below, shows that at that time the William Holland & Sons Mills, on Lower Vickers Street, was substantially bigger than it is today. I have coloured the present mill in orange and, as you can see, there were structures around the present day mill that are gone to be replaced by an extensive car park.