St. George's Church sits beside Chester Road near a busy traffic interchange where the Mancunian Way joins the Inner Ring Road. The church was built between 1826 and 1828 to a design by Francis Goodwin, the architect of the old Manchester Town Hall on King Street, and St. Peter's Church.

St. George's is a Commissioner's Church built for £15,000. Following the Napolionic Wars there was a movement in England to build new churches in part as a celebration of the great victory and also to provide an adequate number of places of worship for the growing populations in industrial cities. At one point Manchester had places for 11,000 worshipers but needed room for 80,000. An Act of Parliament was passed to provide £1Million for the construction of new churches under the direction of the Church Building Commission. Pevsner says of St. George's that it is,
"A Commissioner's church in fact, not only in appearance."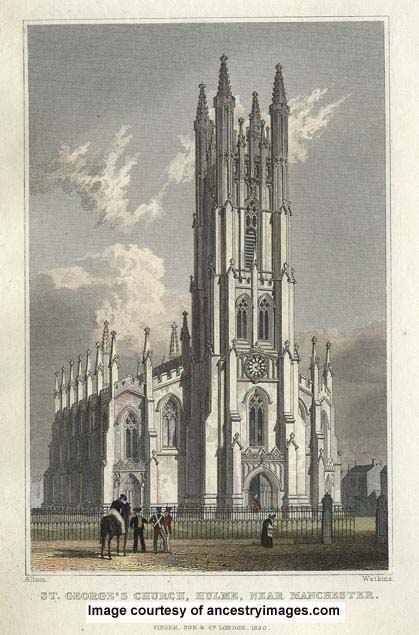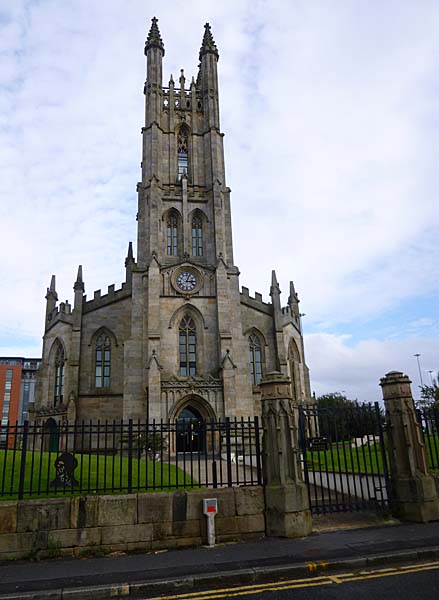 Cecil Stewart, in his book "The Stones of Manchester", expressed his view of St. George's. Clearly he was unimpressed. He said it was,
"....strangely depressing and dull..... (it) has a more extravagant crop of pinnacles and crockets than is usual. The Gothic details, the buttresses and the windows, are mechanically applied wthout any apparent sympathy or understanding."
The growing populations in the 19th Century provoked a church building boom but the tide turned at the beginning of the 20th Century when dramatically declining inner city populations led to the closure of many churches. St. Mary's closed in 1890 even before the turn of the century. Goodwin's St. Peter's closed its doors in 1907, St. John's in 1931 and St Matthew's in Campsfield in 1951. St. George's survived longer than many, continuing to operate until 1983. However, having closed as a church, it sat unused and unoccupied for many years until in 2000 it was converted into flats.