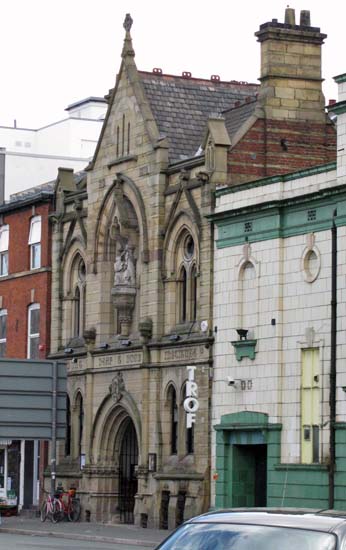 On Grosvenor Street near the Oxford Road corner is a club called by the unusual name of "The Deaf Institute". It occupies a building that was formerly the Adult Deaf and Dumb Institute. The Manchester Evening News said in April of 2008 of this new venue that it is "The third venture in as many years from award-winning operators Joel Wilkinson and Adelaide Winter, Trof presents The Deaf Institute opened on 29th February. News of the launch initially focused on the controversial choice of name. Originally dubbed Deaf And Dumb, after the words carved over the building's Grade II listed Grosvenor Street doorway, the moniker was quickly changed after it became apparent the first choice would cause offence. The more exciting story, however, wasn't the venue's signage but its character and remit. Its owners have invested heavily in a venue they've had their eye on for some time - and the result is an early candidate for their second consecutive bar of the year award. This venture, which follows others in Fallowfield and more recently the Northern Quarter, sees its owners' design and operational expertise strikingly showcased. The usual long trading hours are in residence, and along with them the expected breakfast-through-dinnertime food offer that will make it popular with the surrounding student population."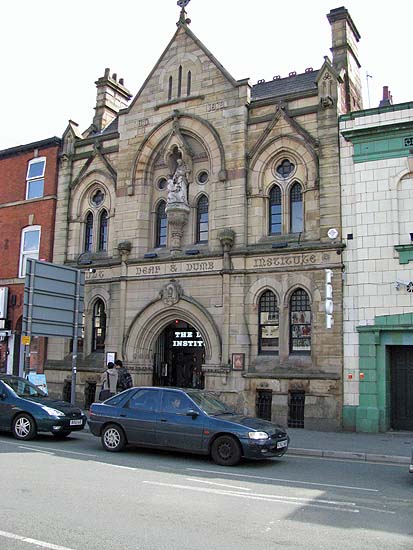 The building was designed by John Lowe and completed in 1877.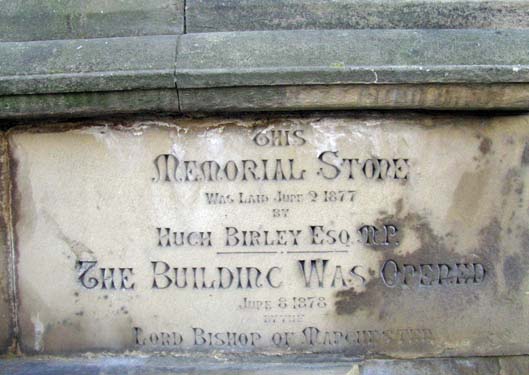 Above the door is a carving of a hand on a book which was the emblem used at the time on badges worn by the deaf.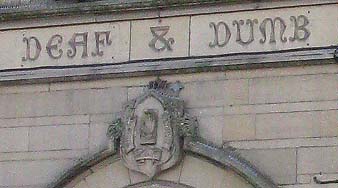 In the April 1900 copy of the "Silent Worker" (a popular national newspaper among the deaf population of the United States during the end of the 19th century through to the first quarter of the 20th century) the following reference is made to the Manchester Deaf and Dumb Institute:



"The present institute Institute was preceded by a society founded by Andrew Patterson, the late headmaster of the Old Trafford School for the Deaf and Dumb, where for many years its meetings were held. Subsequently the headquarters were removed to John Dalton Street, where it continued until after more years of unobtrusive work and steady effort, the Institute in Grosvenor Street, All Saints, Manchester, was built at a cost of nearly £6,000 and opened with much jubilation by the late Bishop Fraser, on June 8th, 1878.

The building includes one of the prettiest chapels arranged in ampitheatre form to be found outside a college, a large club and reading room, a smoking room and general offices; the basement is prepared for a gymnasium, but requires almost entire equipment.... A billiard table is about to be provided.

There are in Manchester, Salford and the districts about 750 deaf-mutes. About one-third of these are inmates of the schools at Old Trafford. To the rest - the men and women - the Institute is open and may be at any time serviceable...Situations are arranged, misunderstandings and disputes averted or adjusted, sickness and trouble of any kind is registered, investigated and provided for. There are two services every Sunday, occasional lectures and entertainment on week days. Two officers are always on duty to keep in touch with this little community and in the last report the willing services of three lay helpers were recognized.

The Institute now enjoys the happy position of being out of debt due to the supreme effort of an ex-Lady Mayoress, Mrs. Meek."