Adelphi Building - University of Salford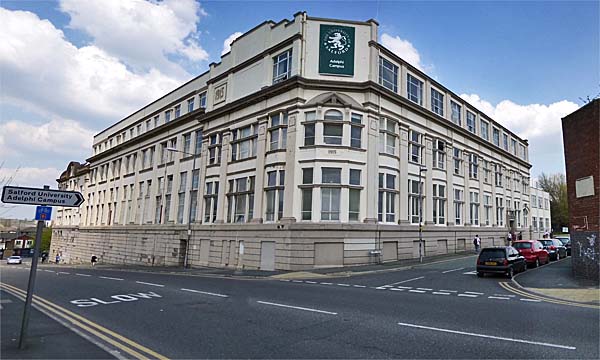 This large white building on the corner of Adelphi Street and Peru Street in Salford is part of Salford University's Adelphi Campus. It is home to the School of Media, Music & Performance. This may not be the case in the future though. The university's campus plan, dated April 2011, says that, "Many of the existing University buildings look old and do not represent an image of an innovative, modern and quality learning environment. Older buildings generally exhibit poor thermal performance which results in high energy consumption." The document includes a map of the university's buildings designating them as "assets" or "liabilities" and the Adelphi Building is regarded as a liability. The university has a long term development plan which will see it dispose of a number of its outlying buildings, like this one, and concentrate their "assets" on the Peel Park Campus and the Media City Campus.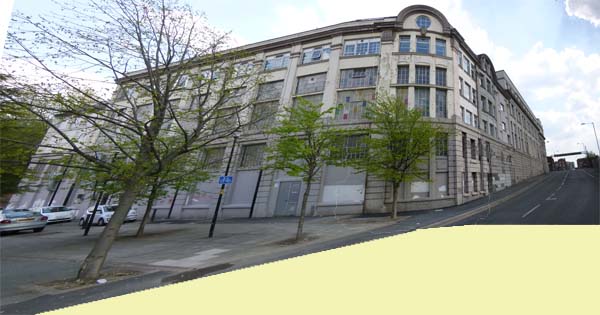 If you look at the OS map of Manchester and Salford circa 1844, the site of the Adelphi Building was occupied by a large reservoir associated with the nearby Adelphi Dye Works.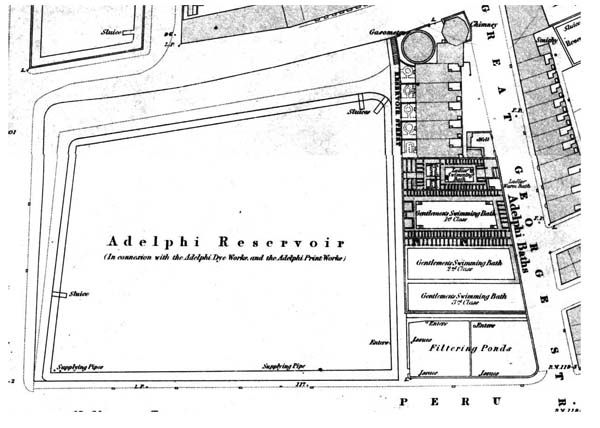 By 1909 the reservoir was gone to be replaced by a timber yard next to a saw mill on Great George Street.
The building we see today appears to have been built as a chemical factory by companies producing various "medicinal" remedies. In an article for "Salford Online" posted July 6, 2011, Dr C P Lee, a media lecturer at Salford University, said that the,
" ... Adelphi Building has had a colourful past; since the 1930s. The use of the building has changed from a drug warehouse to a copper works, then from a chemcial factory to its current purpose as a university building. Adelphi Building was acquired by the University – then called the Salford Royal College of Advanced Technology – in 1962. It was an empty factory, which had previously been the premises of Griffiths Hughes, a company that made a variety of products including Kruschen Salts, Rennies Indigestion pills, Radox shower gels and a once-popular brand of hair cream, Trugel."
I enquired with the Salford Local History Library about the history of the building and they pointed out that on the 1951 OS map of Manchester and Salford the building was marked as "Factory (Chemical)". They thought that at some point it had belonged to Boots the Chemist.