St. Paul's Church - Oldham Road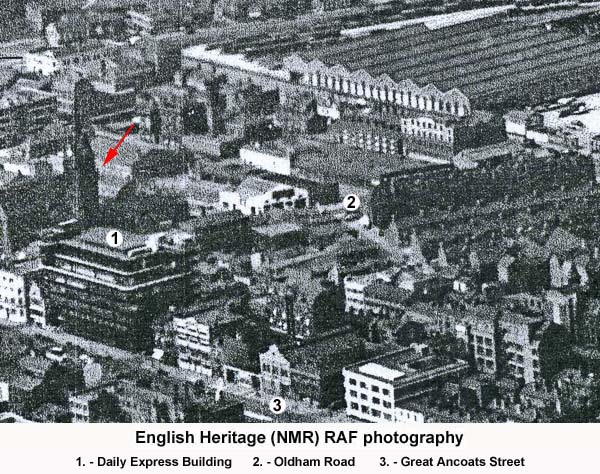 What was known as the New St. Paul's Church occupied an odd shaped site on Oldham Road between Cable Street and Addington Street. It was built between 1876 and 1878 to a design by Sir. George Gilbert Scott, although he died before the church was completed and his son John Oldrid Scott was responsible for completing the project. Depending on which source you believe the church closed and was demolished in the 1960s or the 1980s.

Cecil Stewart in his book, "The Stones of Manchester", said this about the church,

"St. Paul is a much more interesting building from the outside than from the inside. The site is irregular, and the tower, which is a nobly proportioned feature, has been cleverly fitted into the north-east corner. Its four sides terminate in gables, in the manner of the tower of Sompting, but there the resemblance ends, for the design is in the style of the fourteenth century and is surmounted by a small spire. Altogether the building is no disfigurement to Manchester, and provides a salutary termination to the long monotony of Oldham Road."

If you click on the links below you can see images of St. Paul's from the collection at Manchester Central Library.
The aerial photograph below was taken in 1953. The church can be seen within the while line.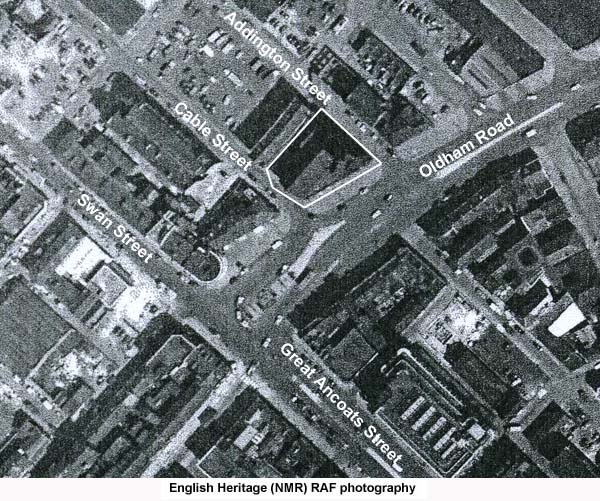 In 2011 the site of St. Paul's on Oldham Road is a car park.
*******************
It was called New St. Paul's because it replaced an earlier church that used to stand on Turner Street near the junction with Tibb Street. A site occupied today by a multi-storey car park.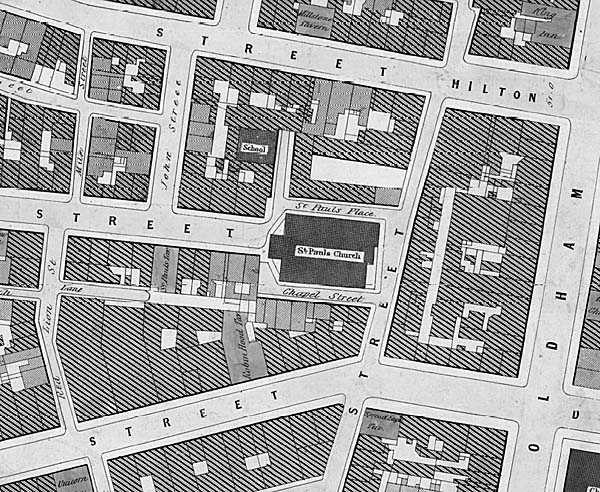 If you click on the link below you can see an image of the old St. Paul's Church from the collection at the Manchester Central Library.


St Paul's Church 1875
Close Window