Mosley Street Buildings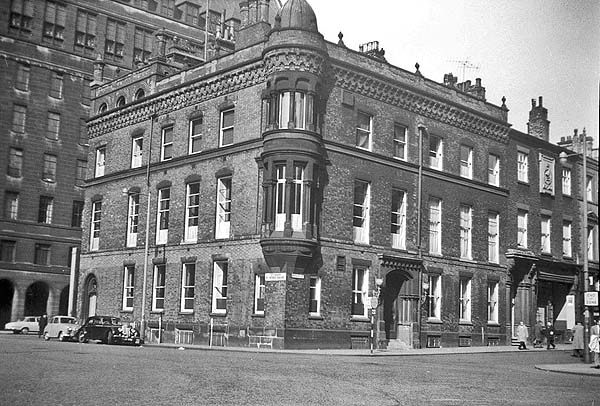 The image above was taken by Pauline Leech and generously donated by Chetham's Library.
If you walk out of St. Peter's Square towards Mosley Street, you will find the Peace Garden.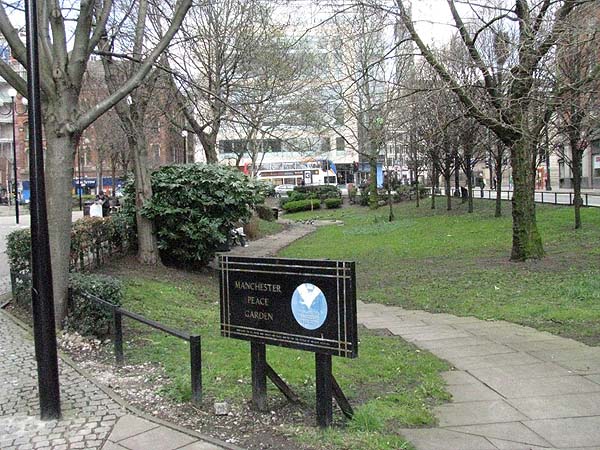 This garden, between the Town Hall Extension and Mosley Street, was created on the site of two blocks of Victorian buildings. They once stood on a site defined by Cooper Street, Princess Street, Mosley Street and Dickenson Street. The two blocks were divided by Back Mosley Street. As you can see in the 1844 map below, the Manchester Mechanic's Institute occupied the block on Cooper Street. It had opened in 1825.
The Mechanic's Institute moved to its new building on Princess Street in 1854.
The block along Mosley Street was home to "College Buildings". The "Science Walks" website says this about the college. "The far right-hand corner of the Peace Garden was once home to the Manchester Academy, set up to train Nonconformist ministers at a time when the traditional universities were only open to members of the Church of England. Dalton, a Quaker, came here in 1793 to teach chemistry, natural philosophy and mathematics."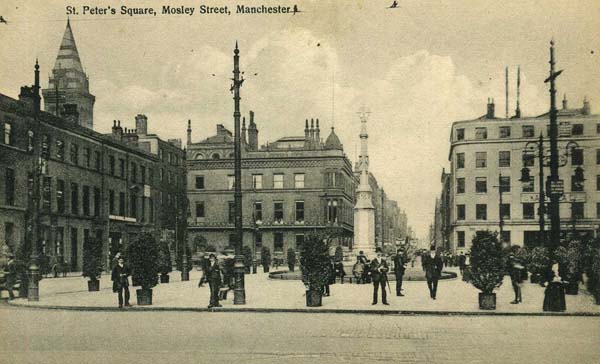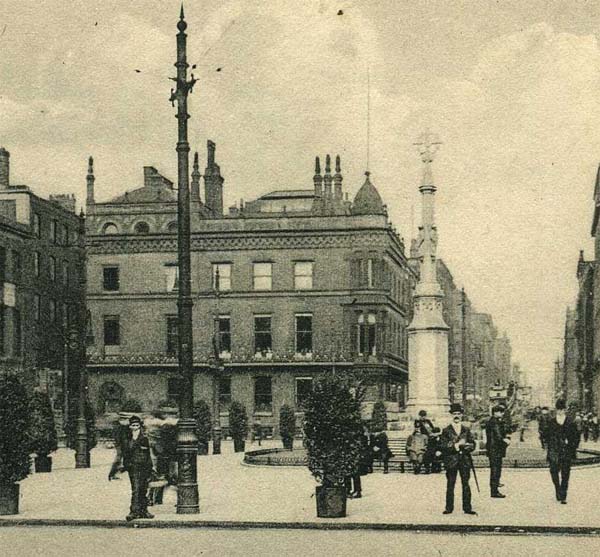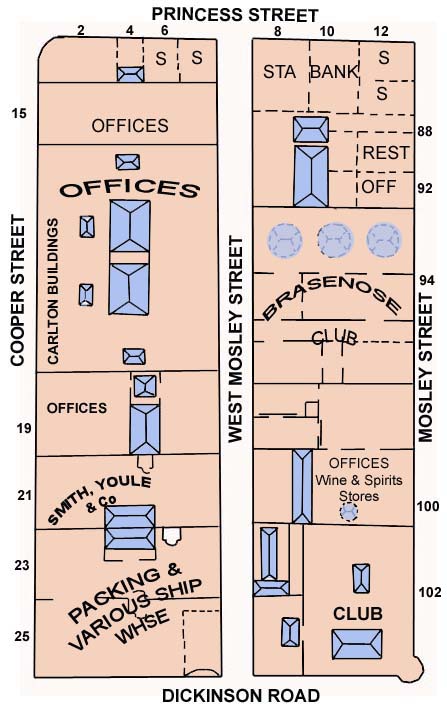 My sketch above is based on an 1888 map and you can see that the Mechanic's Institute is gone, as is the Manchester Academy. Back Mosley Street is now called West Mosley Street. Number 94 Mosley Street was home to the Brasenose Club. It had been founded in premises on Brazennose Street and counted among its members Sir Charles Halle, Charles A. Duval and Edwin Waugh. 94 Mosley Street was the former home of the National and Provincial Bank. As the map indicates, 102 Mosley Street housed an unspecified "Club" in the corner of the block, which sported an oriel window. This was the Clarendon Club. At a later date the Clarendon and Brasenose Clubs combined to form the St. James's Club with 102 Mosley Street as their base. In 1965 the St. James Club moved to new premises in Charlotte Street. The Club, which describes itself as "a private members club - with no more than 1000 members at any time drawn from the business and professional communities of Manchester and the North West", still exists and today it occupies number 45 Spring Gardens.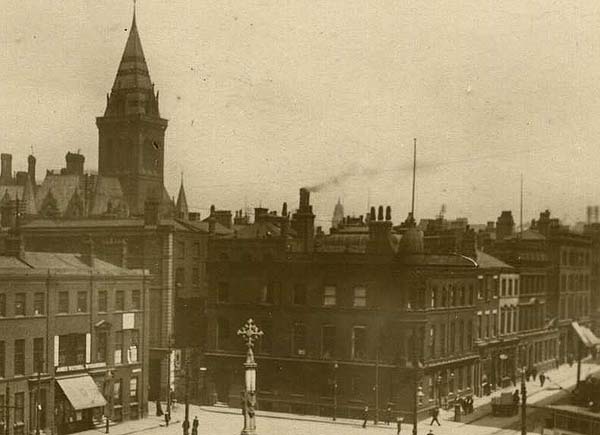 The first change to the site came in the 1930's when the Town Hall Extension was built. The new building, that was opened in 1938, extended out across Cooper Street occupying land created when most of the Cooper Street block had been demolished. You can see it in the aerial photograph below. I have marked the position of the original building within the red lines. As you can see only a small portion of the original Cooper Street block remained.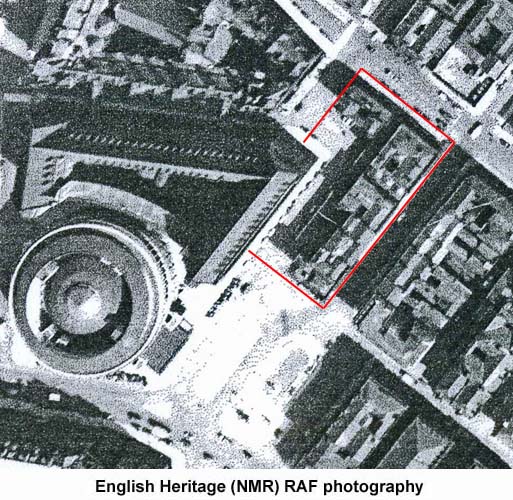 Today all the buildings are gone and the Peace Garden occupies the site.