This Grade II Listed bridge spans the River Irwell linking Deansgate with Chapel Street and in the process linking Manchester with its twin city of Salford. It was built between 1837 and 1839 replacing a bridge built in the 14th Century. The bridge is constructed of stone with, in the middle on each side, an orb on a Grecian scroll.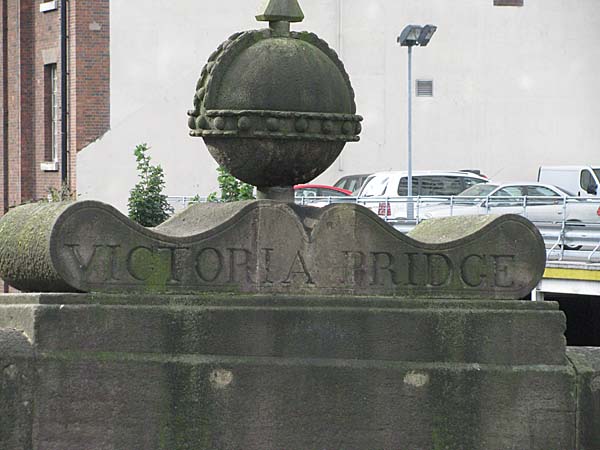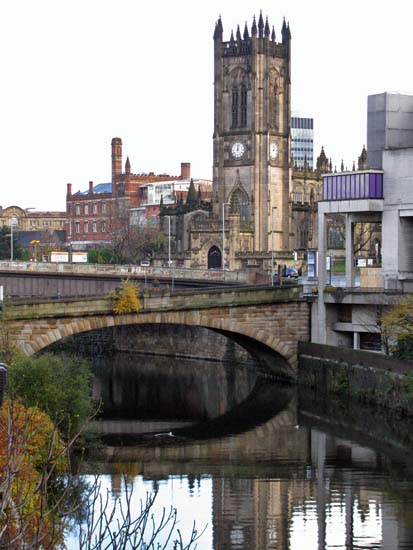 The Chapel Street Heritage Trail leaflet says this of Victoria Bridge,
"Victoria Bridge ... stands on the site of the original Salford Bridge. The bridge was the scene of one of the first battles of the English Civil War. During the war, Salford was strongly Royalist while Manchester was Parliamentarian. The siege of Manchester in September 1642, which started the Civil War, was launched from Salford, with between 3,000 and 4,000 Royalists attacking the town. The battle raged on Salford Bridge and on into Deansgate, where the first casualty of the war, Richard Percival, was shot dead. The attack eventually failed and the siege was lifted in October of the same year."
Today those warehouses that remain have been redeveloped, often into apartments, and those that have disappeared have been replaced by new hotels and apartment buildings. However, the Victoria Bridge, that once carried the Queen and her Consort across the river on their way to the "Art Treasures of the United Kingdon" exhibition at the White City in Old Trafford, still remains.