Johnnie Hoskins
Johnnie Hoskins played a major role in the introduction of both dirt track motorcycle racing and stock car racing into the UK.
Hoskins was born in New Zealand and moved to Australia in the early years of the Twentieth Century. His speciality was publicity and throughout his life Hoskins was a driving force ever ready to promote another innovation.
Motor cycle racing had started as early as 1909 in Australia, although at that time it was on an asphalt surface. Grass track racing appeared in 1917. It was in 1923 though, in New South Wales, that the secretary of the West Maitland Agricultural Show, a keen motor cycle rider, Johnny Hoskins, introduced racing on a dirt track under lights. Speedway was born.
Hoskins' next move was to Newcastle, Australia, where he laid out the first red shale track and from there he took the sport to Sydney and Perth.
He turns up in England as a speedway promoter in 1928.
Johnny Hoskins arrived at Belle Vue in 1952. He came to replace Alice Hart as the manager of the Belle Vue Aces after she retired. When Belle Vue's publicity director D. Buckland Smith left, Hoskins added that role to his management job at the speedway arena.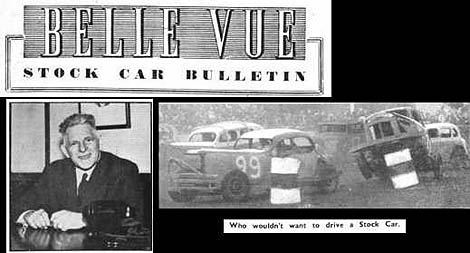 Two years after he arrived at Belle Vue, Hoskins introduced stockcar racing. It was his interest in stock cars that eventually led him to leave Belle Vue. Teaming up with Stan Hinckley, he moved to the Harringay track in London. At that time he was a member of the Stock Car Board of Control and originator of the Stock Car World Championships.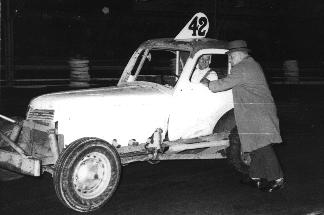 Aubrey Leighton, Car 42, 1957 BriSCA F1 World Champion with the great Johnnie Hoskins

When Jonnie Hoskins left Belle Vue he was replaced by Ken Sharples, a man who had previously managed the amusement park.