The Guinness Clock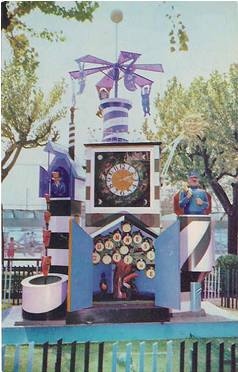 One of the attractions that I remember from my years of visiting Belle Vue is the Guinness Clock. It stood not far from the Hyde Road Entrance in the area that had once been the Centenary Gardens. This animated device drew crowds of people for its regular performances.
There were, in fact, two kinds of Guinness Clocks. The earliest was more accurately referred to as the Guinness Festival Clock because it made its first appearance in 1951 at the Festival of Britain. This event was designed to display British achievements in science and technology and was staged at various venues in London. 1951 was a significant date because it marked the centenary of The Great Exhibition at The Crystal Palace.
Battersea Pleasure Gardens was one of the venues and it was here that the more "frivolous" exhibits were located. The Guinness Festival Clock was one such exhibit and it was the brain child of the company's advertising manager, Martin Pick.
---
The clock was the product of three creative forces. It was actually built by the London Clockmakers Baume and Co. It was an elaborate piece of machinery incorporating nine reversible electric motors and three synchronous clocks.
It was designed by Jan Lewitt and George Him. Lewitt and Him were renowned designers who formed a partnership in 1933 and worked together for 21 years in Poland.
Jan Lewitt was born on April 3 1907 in Czestochowa, Poland, where he spent his childhood. After school he travelled for three years in Europe and the Middle East before beginning work as a self-taught graphic artist and designer. He became an artist while trying to make a living in thirteen different occupations, among them as a worker in machine building, in soap manufacturing, in a distillery, as a bricklayer, farm worker, compositor, and architects' draftsman. In 1933 he met George Him and they formed the Lewitt-Him partnership.
George Him was born in Lodz, Poland in 1900, the son of a well-to-do shoe manufacturer called Himmelfarb. He went to school in Warsaw and then attended university in Moscow, Berlin and finally Bonn where he obtained a Ph.D in Comparative Religion. He then changed direction and spent four years studying at the Academy for Graphic Arts, Leipzig. From 1928 he practised as a graphic designer. For a while he freelanced in Germany, but there was not much work there so he returned to Poland in 1933, where he met Jan Lewitt.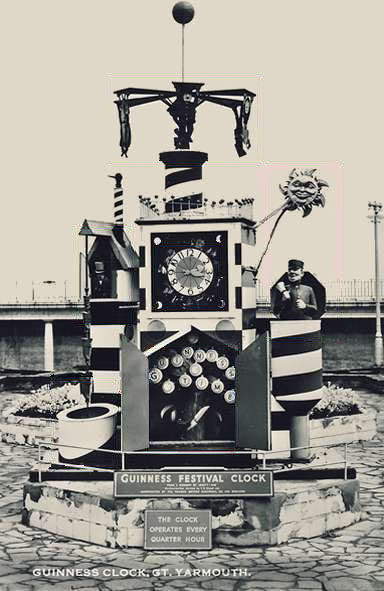 Much of their fame came from book illustrations. In 1934 they illustrated the Polish book "Lokomotywa". In 1942 they were commission to illustrate a book by Diana Ross called "The Little Red Engine Gets a Name". During World War II Lewitt-Him worked for the British Ministry of Information, the Post Office, the Ministry of Food and others, also for the Polish and Dutch Governments in exile producing mainly posters. In addition to the Festival Clock, Lewitt and Him also designed murals for the Education Pavilion at the Festival of Britain.
At the heart of the Festival Clock though was the troop of familiar Guinness characters and animals created by John Gilroy whose advertising posters are still synonymous with Guinness. Every quarter of an hour these familiar "actors" performed a four and a half minute routine that captivated its audience. The Guinness zoo keeper with the 'tash was prominently displayed. This was, in fact, a caricature of Gilroy himself. The clock also displayed a number of Gilroy's animals including the ostrich, pelican, bear, lion, tortoise, kangaroo, crocodile, a kinkajou and of course the Guinness toucan. During the 1930s - 1950s period Guinness had also incorporated characters from Alice in Wonderland in its advertising campaigns, so in designing the Festival Clock they also incorporated The Mad Hatter.

John Gilroy was born in 1898, the son of the well-known marine artist, John William Gilroy. His talent as an artist won him a scholarship to Armstrong College but his education there was interrupted by a tour of duty in the army. He served in the Royal Field Artillery under T. E. Lawrence. In 1928 Gilroy, by then a commercial artist, joined Benson's Advertising Agency in London. When the agency won the Guinness account Gilroy was assigned to it along with the copywriter Dorothy L. Sayers, better known as the creator of the Lord Peter Wimsey novels.
So popular was the clock that, following the Festival of Britain, Guinness received a number of requests from a variety of organizations to borrow the clock. In response they commissioned two smaller, travelling versions and the first one was loaned to Morecambe in 1952 as part of their illumination celebration. Then it went to Manchester where it was displayed on the 5th floor of Lewis'. The clocks toured Britain for 7 years, one even went to the U.S.A. and two went to Ireland.
---
In 1959 the Guinness Time Piece or Guinness Clock appeared. It was even bigger and more elaborate than the Festival Clock. It weighed four tons and was made up of three sections. It was designed by John Lansdell and Willy Szoomanski and built by F. B. Elcom Limited. It was first displayed at the Guinness Bicentenial Garden Party before going on tour. Appropriately the first place it was sent to was the Battersea Pleasure Gardens. I suspect that it was one of these clocks that appeared at Belle Vue. The travelling clocks were finally withdrawn and scrapped in 1966
---
All the material on this web site is © David Boardman, unless otherwise stated, and may not be copied, downloaded or otherwise reproduced or retransmitted without the written permission of the webmaster.
Any contravention of the copyright of others is unintentional and will be corrected immediately when brought to the attention of the webmaster.