Ginette Neveu Concert



The program below was contributed by Malcolm Fieldhouse who discovered it being used as a bookmark in a book that had belonged to his Aunt. Ginette Neveu performed on a number of occasions at Belle Vue with the Halle Orchestra. During the 1949-50 concert season she played the Sibelius Violin Concerto with the Halle led by Sir John Barbirolli at concerts in Bradford, Sheffield and Manchester. A few days later she was killed in an air crash. The program below has a date but no year, however, March 31 fell on a Sunday in 1946 and taking other factors into consideration, that seems to be the most likely year.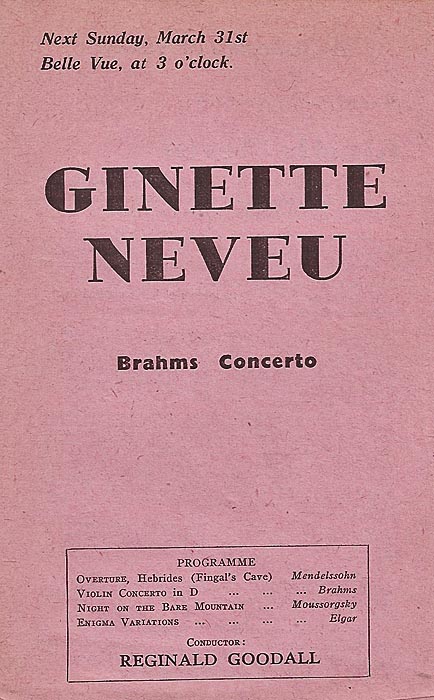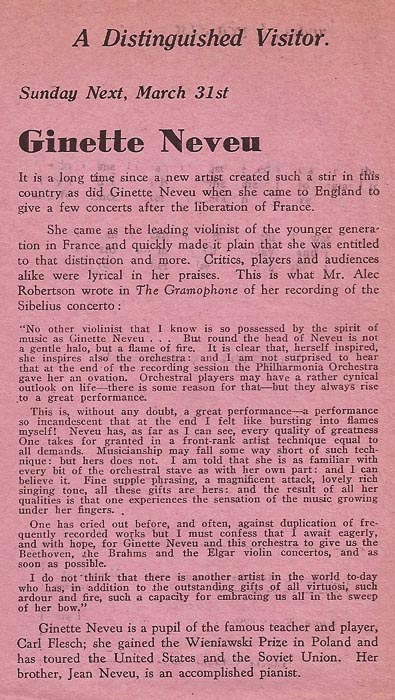 ---
All the material on this web site is © David Boardman unless otherwise stated, and may not be copied, downloaded or otherwise reproduced or retransmitted without the written permission of the webmaster.
Any contravention of the copyright of others is unintentional and will be corrected immediately when brought to the attention of the webmaster.