1870 - 1900


It can be assumed that there was an Ardwick School by 1870 and possibly before that. It was most certainly a Church School and it was housed in the St. Mathew's building on the corner of Devonshire Street and Hyde Road (marked with a red X in the photograph below). The school was for boys, girls and junior boys. The headmaster was Mr. C. H. Wykes and the Headmistress Miss Hamm. Students over 9 years of age paid quarterly fees of 12 shillings, from 7 to 9 years of age the fee was 7 shillings and 6 pence, and for 5 to 7 year olds it was 4 shillings and 6 pence. French and drill were extra, costing 4 shillings and 6 pence and 1 shilling respectfully.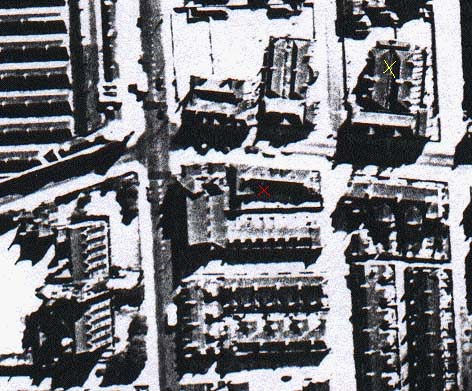 The school grew over the years and by August of 1885 it housed 340 senior boys. As the years passed the school was apparently bursting at its seams as more students and more teachers were added and a wider range of subjects taught. When the Headmaster, Fred Wood, said on his leaving at Whitsun of 1894: "Closed school at noon and my term of engagement on these schools - after nearly 12 years engagement - Commencing August 14th, 1882, Attendance at commencement about 70, attendance on October 12th, 1886, 6 years later - 415. On roll 448."
By 1876, education up to 13 was compulsory. The majority of children at this time attended voluntary schools or "state" (maintained) schools. The remainder attended endowed schools, grammar schools or other types of private schools. But what about boys and girls who were able and wanted to proceed beyond 13? In 1877 a "Higher Grade" School began in Greenheys where more advanced work was undertaken. In addition to the ordinary equipment of schools, these schools had chemical and physical laboratories with suitable rooms for instruction and drawing. The intention was that the curriculum, however broad, should place strong emphasis on scientific and practical subjects. The Ardwick School established itself as one of the 5 Higher Grade Schools in Manchester.
The school was about to leave the St. Mathew's Building and cross the street to a new purpose-built school (marked with a yellow X in the image above). The memorial stone for the new building was laid on September 2, 1893 and soon after classes began to gradually move over. By September 19th all the students had transferred from the old building into the new school.