BAM Nuttall say on their website that their involvement in the redevelopment of Reading Railway Station included,
"... the widening of Caversham and Vastern bridges carrying the railway over main road thoroughfares in Reading town centre. ... this contract will also extend the width of the Vastern Road Rail bridge whilst maintaining the aesthetic appearance of the framed bridge. The project also involves the construction of substantial earth retaining structures and extensive traffic management. BAM Nuttall value engineered the retaining structures during the tender period by redesigning the wall and its foundation which, in addition to reducing waste, provided Network Rail with an efficient and economical solution to a
logistically challenging piece of work. Development of our traffic management proposals to plan the interface between live traffic and rail operations was assisted through the use of 3D visualisation software.
"
Much of the work took place around the Christmas and New Year holidays in 2011.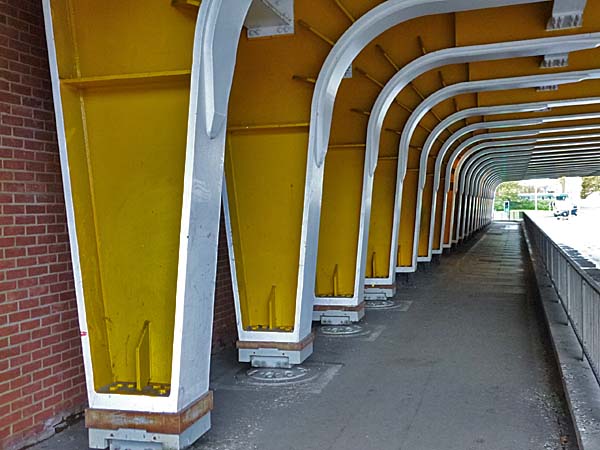 The New Civil Engineer workshop also reported on this bridge project in 2011.
"There are two rail over road bridges approaching Reading station – Caversham Road to the west of the station, where the Great Western mainline heads towards Bristol and Cardiff, and Vastern Road to the east, heading to London. Increasing the capacity of these bridges is key to the station upgrade, and work on the Vastern Road railway bridge will be completed this year. The existing railway bridge is being widened on both sides to create room for track to serve the new platforms, and Hepburn says this work is more technically challenging than the work at Caversham Road. The bridge extension has to match the existing structure – a concrete bridge deck on top of steel portals – to meet planning requirements. This makes the tolerances for the structure even tighter than Caversham to maintain the road clearance, as this bridge deck is naturally deeper."