The Jewish Museum in Berlin occupies two buildings. Entrance for visitors is through the baroque Kollegienhaus on Lindenstrasse (the cream coloured building with the red roof seen on the left in the centre of the image below). Libeskind's new building is beside it.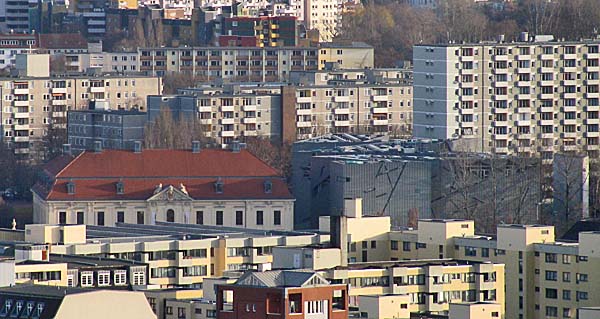 Daniel Libeskind explains that once inside the old building you experience,

"a dramatic entry Void by a stair, which descends under the existing building foundations, crisscrosses underground, and materializes itself as an independent building on the outside. The existing building is tied to the extension underground, preserving the contradictory autonomy of both the old building and the new building on the surface, while binding the two together in the depth of time and space. The descent leads to three underground axial routes, each of which tells a different story. ... The first, and longest, traces a path leading to the Stair of Continuity, then up to and through the exhibition spaces of the museum, emphasizing the continuum of history. The second leads out of the building and into the Garden of Exile and Emigration, remembering those who were forced to leave Berlin. The third leads to a dead end — the Holocaust Void."



Leibskind's building is clad in zinc, which will turn a bluish shade over time, and cut into by a pattern of irregular shaped windows.