FAT stands for Fashion Architecture Taste. Fat is a London based practice run by Sean Griffiths, Charles Holland and Sam Jacob. Established in 1995, Fat has developed a broad approach to architecture.

FAT says on their website that they,

"were selected unanimously by the future residents to design 23 new houses for the Manchester Methodist Housing Group within the New Islington development by Urban Splash. The scheme comprises of 23 two to four bedroom family homes and garden areas. Our design unifies the residents desire for traditional homes with the New Islington masterplan commitment to innovative and world class architecture, and was developed in close collaboration with the residents."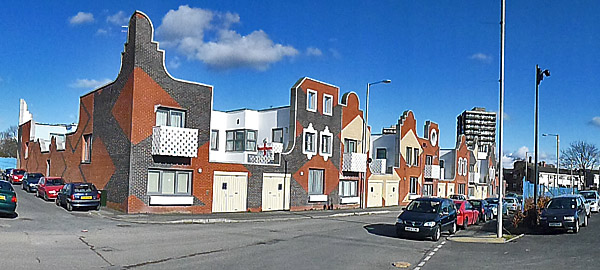 "The design accomodates reduction of primary energy, CO2 emissions and water consumption, Green specification of materials and reduction of construction waste, design for Life-cycle adaptability to the Lifetime Homes principles and will receive an EcoHomes Excellent Rating. The scheme was completed in Spring 2006."