The Darwin Centre - Natural History Museum, London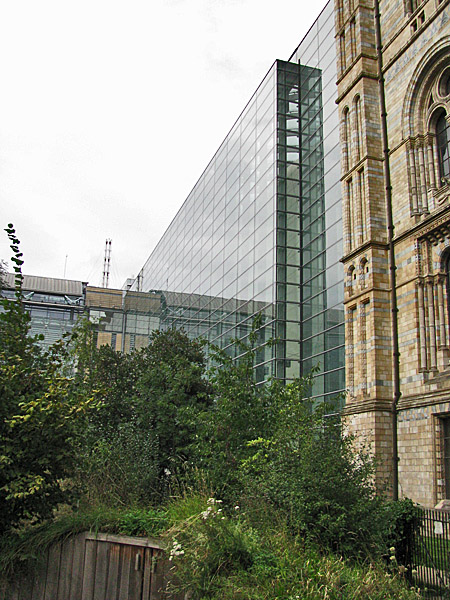 Architect

C.F. Møller Architects
Date Built

2002 - 2009

Location

An extension to the Museum of Natural History, London

Description

The modern, glass facade of the Darwin Centre is located behind the Victorian Natural History Museum building beside Queen's Gate. Inside the centre is a giant concrete, steel and glass cocoon that is home to state-of-the-art research facilities, a public exhibition space and over 20 million specimens. This collection includes 17 million insects and 3 million plants. Visitors access the cocoon via a bridge walkway on the 7th floor and wander down a gently sloping walkway experiencing a series of wall installations and graphic displays along the way.

The museum's website says of this exhibition space that, "The gently curving, sloped walkways inside the cocoon building are designed to be wheelchair-friendly. The space is specially designed to buffer the noise levels, particularly near the science work areas and where exhibits use sound.

Visitors exit the cocoon building on the lower ground floor of the Darwin Centre. As they walk through the light and airy hallway they can revel in the atmosphere and grandeur of this magnificent space. The floor is made from British Portland limestone."

C.F. Møller Architects won the contest to design the facility in 2001. Their design had to compete with 51 other entries. They say of the cocoon that, "The collections areas within the Cocoon are world class, the regulation of temperature and humidity reduce the risk of pest infestations ensuring that the collections will be protected and preserved for many years to come. The exposed thermal mass of the continuous sprayed reinforced concrete shell maintains a stable internal environment, and minimizes energy loading."