Van Gogh Museum Kurokawa Wing, Amsterdam, Holland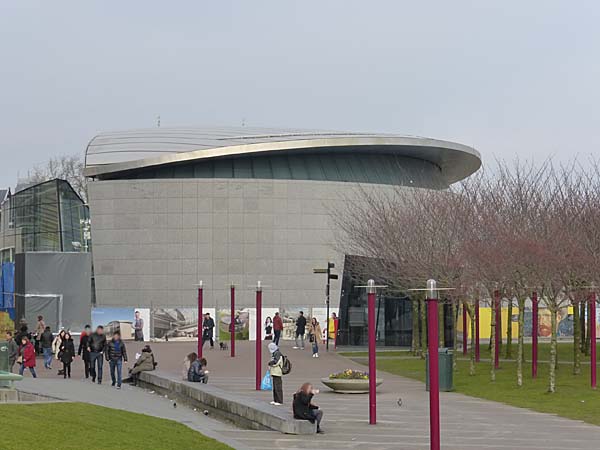 Architect

Kisho Kurokawa

Date Built

1999

Location

Museumplein

Description

Amsterdam's Van Gogh Museum is housed in two buildings erected 20 years apart. In 1973 the main building designed by Gerrit Ritveld opened for the first time (you can see it on the right of the image below).




In 1999 the building shown at the top of the page was added. Known as the Kurokawa Wing or the Exhibition Wing, it represents a dramatic departure from the design of the Gerrit Building. The "Architravel" website points out that Kurokawa is a Japanese architect with an international reputation and experience of designing a number of museums in his home country. They add that, "... His work is characterised by geometrical forms, such as cones, ellipses and squares, and a symbiosis between Eastern and Western principles in philosophy and architecture. For the new wing of the Van Gogh Museum he created a sober design that accords perfectly with the existing building. Rational (Western) geometry forms a symbiosis with Eastern asymmetry."

Kurokawa explains that, "... The new wing was built in the open space adjacent to the main building of the museum, which was the last work of the Dutch Modernist architect Rietveld. Considering the whole of the landscape, 75% of the building's area (excluding the main exhibition hall) was constructed underground as an effort to minimize the space it would have taken above the ground. The new wing connects to the main building through an underground passage."

When I visited the museum in March of 2015 work was underway to add a glass structure to the back of the Kurokawa building. Also designed by Kisho Kurokawa Architect & Associates, the agency founded by the late renowned Japanese architect Kisho Kurokawa, the new structure will, "... create an additional 800 m2 of surface area, meaning the museum will be better equipped to welcome the growing number of visitors. The additional space also means the museum will be able to host larger conferences and receptions."





Close Window