The American Air Museum was built on the site of the World War II Duxford Air Base, now a branch of the Imperial War Museum. It stands as a memorial to the 30,000 US Airmen who died in action in conflicts during the 20th and 21st Centuries. It is home to the largest collection of American military aircrafts outside of the United States. The centrepiece of the collection is a huge B-52 Stratofortress which barely fits into the building. The rest of the collection is arranged around - under and suspended above the B-52.




Foster + Partners describes the museum as being, "Enveloped by a single vaulted enclosure, the Museum's drama comes from the powerful arc of its roof - engineered to support suspended aircraft - and the sweep of the glazed southern wall overlooking the runway.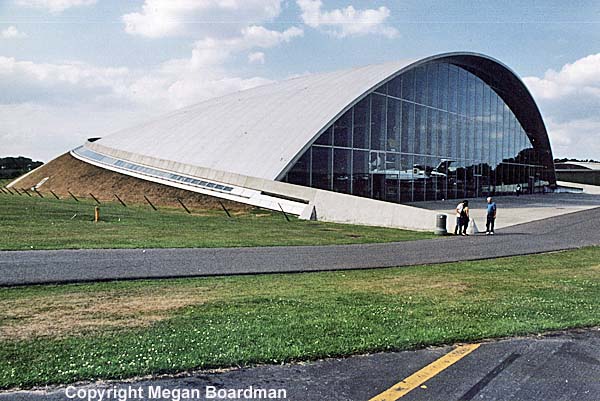 Despite the fact that the structure is partly sunk into the ground, its fully glazed elevation and a continuous strip of glass around the base of the vault washes the interior in daylight. "




In 1998 the building won the Stirling Prize. The judges described it as,

"a great big, clear span hangar of a building...dramatic, awe-inspiring, an object of beauty...simple yet replete with imagery."