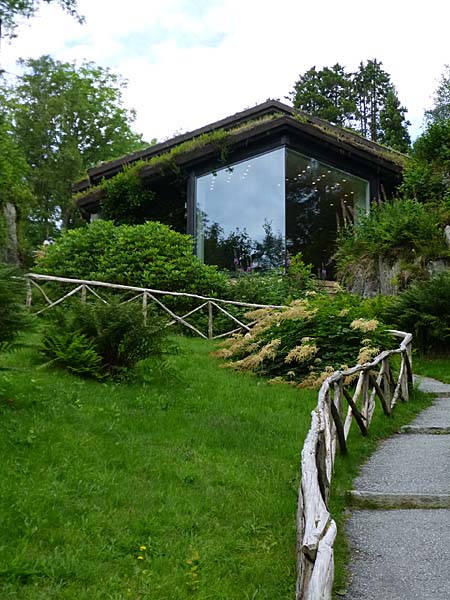 In 2012 Kristin Jarmund Arkitekter completed the first phase of a project to thoroughly renovate and improve the acoustics of the building. They explain that, "... We have focused on this strong relation to the surrounding landscape and redesigned the glass wall behind the stage completely without mullions.
The visual expression of the concert hall has been simplified by painting the walls and ceilings. New lighting, wooden floors and leather seats also contributes to the new delicate impression. The stage entrance has been rotated so that musicians have visual contact with their audience as they enter the stage from below. The soundproof entrance to the concert hall has been improved acoustically and the outside walls have been clad with perforated copper plates highlighting the shape of the entrance box against the white walls."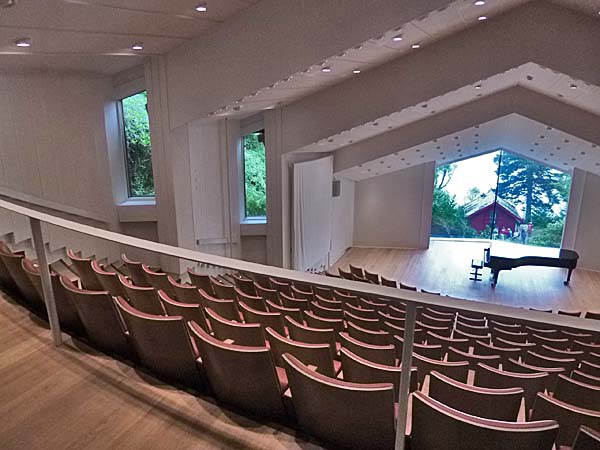 The Grieg Museum's website adds that, "... The sunken building is so well-adapted to the terrain that it is almost invisible to visitors who cross the little bridge to Troldhaugen. An ingenious touch was to add a turf roof, which not only makes Troldsalen blend wonderfully with the surrounding vegetation, but which also forms a poignant link between traditional and modern building techniques. By the entrance we find Ingebrigt Vik's bronze statue of Edvard Grieg from 1917, a copy of which also stands in Bergen's central park. This sculpture is life size – like Grieg himself its height is 1.52 m."