Tower 42 / The Former NatWest Tower - Old Broad Street, London, UK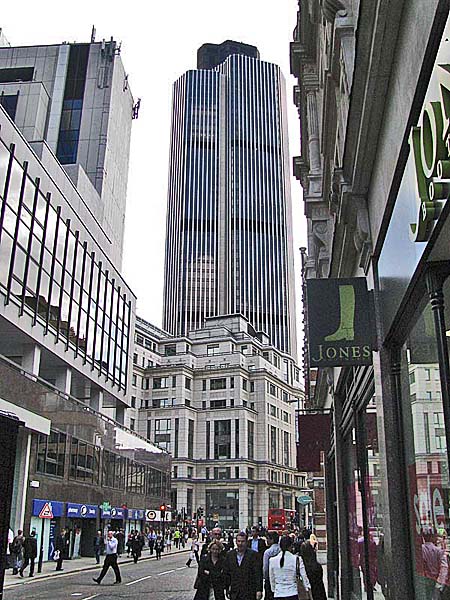 Architect

Richard Seifer
Date Built

Between 1971 and 1980 - Opened officially by the Queen in June of 1981
Location

25 Old Broad Street

Description

Until the One Canada Square skyscraper was built at Canary Wharf, Tower 42 was the tallest building in the UK. It was built for and named after the National Westminster Bank and known as the NatWest Tower. It stands 600 feet high and has 47 floors above ground. The building was constructed around a central concrete core and the top 42 floors are canterlevered off this central core. The building was innovative in its day in a number of respects. For instance it features double-decker elevators providing express service between the ground level entrance and what were called "sky lobbies" on the 23rd and 24th floors. It also had an internal automated mail system and an automated external window washing system.



After the IRA bombing in Bishopsgate, the tower, along with other building in the area, was extensively damaged. It was reclad using a system that made it possible to work on three floors at a time. Unfortunately during this work, a fire broke out on the 45th floor. Following the completion of the refurbishment, NatWest first renamed the building the "International Financial Centre" and then sold it. The new owners renamed it again as Tower 42.