The Bank of Nova Scotia's Head Office in Toronto used to be in the historic building still seen today at 44 King Street West (see below). It was designed by the architects Mathers and Haldenby and built between 1946 to 1951. This 27 storey building clad in stone has been designated under the Ontario Heritage Act.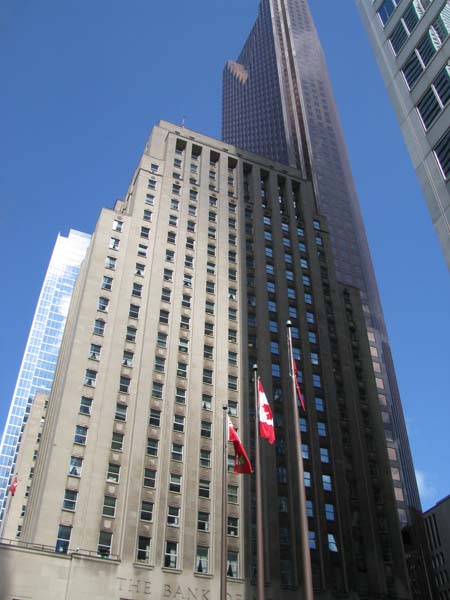 In 1985 construction began on a "post-modern" tower block beside the old building. This new development also involved a refurbishment of the original building and the addition of a 11-storey glass atrium connecting the two buildings. The new block stands 68 storeys above ground and a further 6 below.

The $350million building was designed by the architectural practice of WZMH and they describe it as follows:

"Clad in Napoleon red granite, Scotia Plaza, the headquarters of the Bank of Nova Scotia, provides a welcome addition to the palette of the city's downtown. Folds in the building massing create a slender proportion on the north and south faces of the tower, contributing a sense of dramatic verticality at the heart of Toronto's financial core."