Rogers Centre - Toronto, Ontario, Canada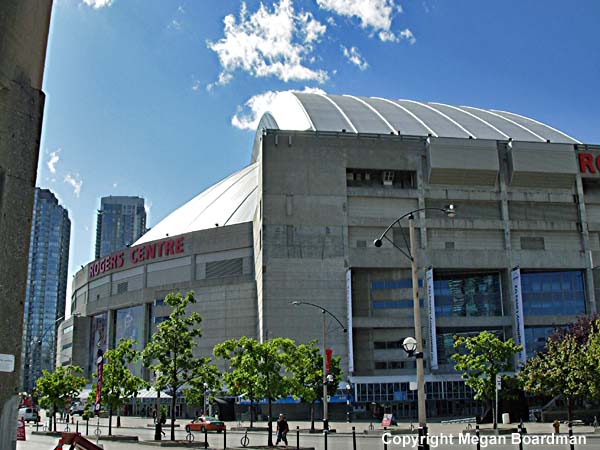 Architect

Architect Rod Robbie and Structural Engineer Michael Allen
Date Built

Opened June 3, 1989

Location

Blue Jays Way, Toronto

Description

When the Toronto Blue Jays played their first Major League Baseball game, on April 7, 1977, at its original home in Exhibition Stadium, the weather was freezing cold and prior to the game the field was covered in snow. At the time some wondered whether it was such a good idea to award a Major League Baseball franchise to such a "northern" city.

It was certainly understandable therefore that, when it moved into a new purpose-built stadium, it was one with a retractable roof. The stadium was originally known as the SkyDome, a name that it kept until 2005 when Rogers Communication bought it for $25 million and renamed it the Rogers Centre.

The facility is home to the Blue Jays and the Toronto Argonauts of the Canadian Football League. The stadium has five levels of seating with the lower level being moveable, so that it can be reconfigured to accommodate the two sports. It is also a venue for concerts, family shows, trade shows and conventions.

The "ballparksofbaseball.com" website says this of the retractable roof, that is built of four independent panels

, "

When the roof opens three of the four panels, two barrel shaped and one quarter dome, maneuver where they stack over the fourth panel at the north end of the stadium. Weighing over 21 million pounds, it takes 20 minutes for the roof to open or close."




Another feature of the facility is the Jumbotron, a video display this is 110 feet wide and 33 feet high

.



As you walk up to the stadium you are confronted by amusing sculptures by the Canadian artist Michael Snow. They portray enthusiastic spectators some of whom are expressing an opinion about the quality of the game they are watching.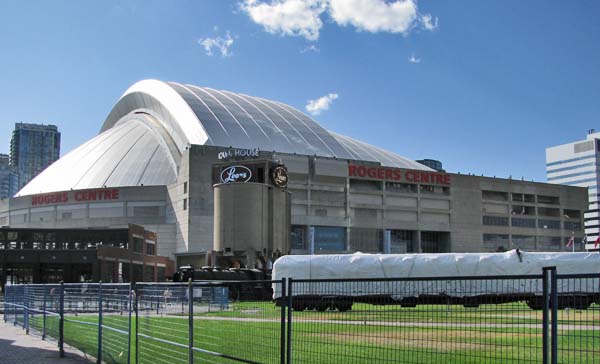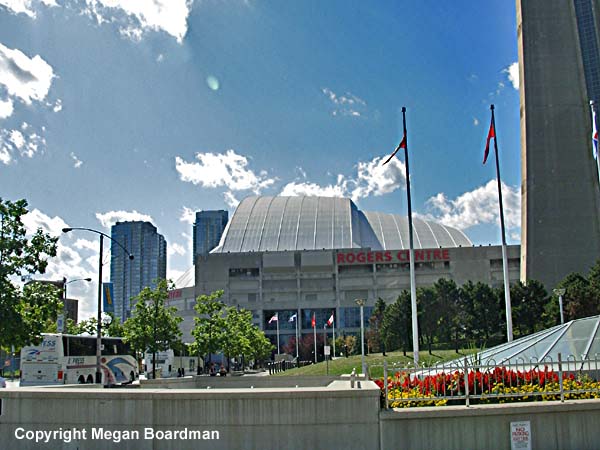 Close Window