Palais de Justice de Quebec, Quebec City, Canada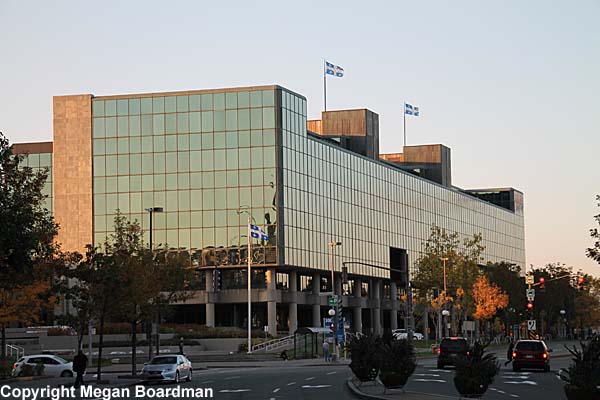 Architect

Dimitri Dimakopoulos

Date Built

Completed 1983

Location

Boulevard Jean-Lesage
Description

The selection of the architect for the Palais de Justice was a two stage process. The first to determine the participants and the second to chose the best design. Work on the construction of the building began on August 28, 1980, with the demolition, and site preparation. Structural work started on October 23 of the following year. By mid 1983 the exterior shell of the building was in place. The building was delivered on budget ($54.4m) and on time. The official opening happened on October 23, 1983.

Dimitri Dimakopoulos' design called for a main entrance that led to a four-storey atrium around which walkways led to various courtrooms. The inside was to feature the use of panoramic elevators, suspended staircases and the use of Quebec grey granite slabs. Outside is a green reflective glass curtain wall.

The courts within the building include: the Court of Quebec - Civil, Youth, Criminal & Penal Divisions; the Superior Court - Civil & Criminal Divisions; the Québec Court of Appeal; and the Small Claims Court.

Close Window