The World's End Estate occupies an eleven acre site in the Royal Borough of Kensington & Chelsea situated between the Kings Road and the River. The unusual name comes from that of a local pub. Victorian houses once occupied the site until they were cleared away in 1968 to make way for this ambitious project. Construction began on the estate in 1969 but it wasn't completed until 1977.

World's End is made up of seven high-rise tower blocks of varying heights linked by low-rise blocks that form walkways in the sky. These low-rise blocks form a figure-eight and effectively combine all seven tower blocks into one huge housing unit. There are 750 homes on the World's End estate accommodating approximately 2,500 residents. The tower blocks have 4 flats on each floor.

The figure-eight layout creates two courtyards that accommodate the estate car parks and gardens. The gardens sit on top of the garages. The buildings are constructed of red-brown brick and have a profile that is described as "many-sided" creating a rippled effect.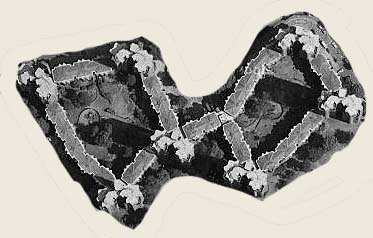 In addition to the housing, the site also includes Ashburnham Primary School, St. John's church, the Chelsea Theatre, and Omega House which contains a supermarket at street level.