This building complex is made up of two components. The Union Jack Club (the tower seen above on the right and in the image below) occupies the south tower. Its entrance is off Sandell Road.
It is a private members club for serving and ex-serving military personnel.
Prior to this building being built in 1976 the club occupied an Edwardian building on the same site. The club offers its members accommodation, a restaurant, bar, small library and function rooms.
An article written by Brigadier Johnny Rickett, on a website called bartonheath.co.uk, makes reference to the construction of the building and the operation of the club. He says that,
"The Club opened for business in its new premises on 16th of October 1975 and the Queen, our Patron-in-Chief, formally opened it on the 12th of February 1976. In retrospect and it is always easy to judge events historically, not enough forward thinking was put into the design of the new building; it was after all a 60s architectural plan and one only has to look around the country to see how badly constructed these buildings were in so many cases. Not only was the quality of material poor but also the workmanship certainly wasn't up to the standard one would expect today.
As a result
large quantities of money has
had to be spent on upgrading the building since the middle of the 1980s. No en-suite accommodation then existed anywhere in the Club, there was a strict dividing line between the families and female guests on the one hand and male members on the other; never the twain should meet it seemed, as there were even two entrances in the front of the building to ensure that they entered separately! The latter anomaly was put right in 1996 when the Reception Area was remodelled. Modernisation is continuing apace and the aim is that all bedroom accommodation should be en-suite eventually; however as each floor costs around £400,000 to convert, progress is necessarily slow!"


However, he concludes his article by saying that,
"It is always good to report that after 100 years the Union Jack Club remains as popular and well used as it did when it was founded, and with its high room occupancy, it is the envy of most other clubs and certainly every hotel in central
London
."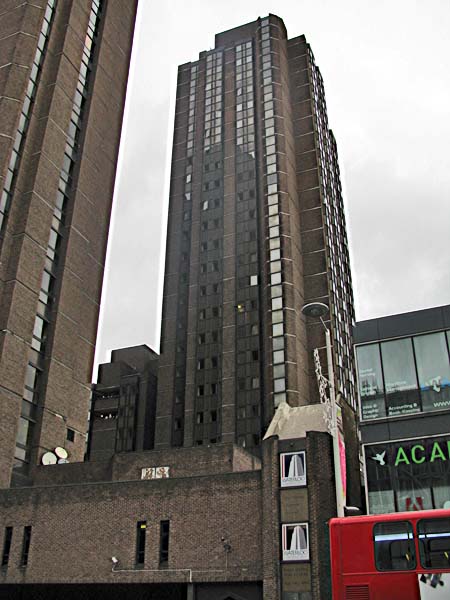 Standing beside Waterloo Road is The Capital Tower (see below). Originally known as the 3i Office Block, it is described today, by the agents representing it, as,
" ... the number one choice of business centres in Waterloo. At 70,000 sq ft, it boasts 12 floors of quality office space overlooking some of London's finest landmarks as well as contemporary meeting room facilities."
The Skyscraper News website says that the Capital Tower was constructed so that,
" ... the profits from the building would help finance the nearby Union Jack Club."