Judith-Jasmin Pavilion, UQAM, Montreal, Canada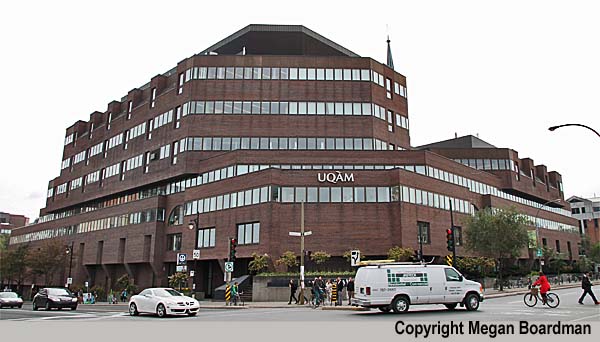 Architect


Dimitri Dimakopoulos and Associates and Jodoin Lamarre Pratte et Associates

Date Built

1976 - 1979

Location

Rue Sainte-Catherine
Description

In 1979 L'Université du Québec à Montréal (UQAM) opened a new pavilion in downtown Montreal on the site of the former Church of Saint-Jacques built in 1858. This site, bound by Rue Sainte-Catherine, Rue Saint-Denis, Rue Berri and Rue Ontario, has experienced three significant fires dating back to 1822 when a complex of religeous buildings were destroyed. Fire also destroyed the main body of the Church of Saint-Jacques in 1933. The church was rebuilt but demolished in 1975 to make way for UQAM's new pavilion.

When the architects drew up the design for the Judith Jasmin Pavilion they incorporated the bell tower and the transept of the damaged church into the new building.




As the "patrimoine-religieux.qc.ca" website puts it, "By way of retaining something of the flavour and style of the old architecture, it was decided to place the modern passageways on the site of the nave and former transept. Parabolic arches were designed imitating the structure of the former church to provide an exterior link between the buildings. This passageway is illuminated from light-wells providing the onlooker with glimpses of the architectural features which survive from the former church."

The university explains that the building is, " ... the nerve center of campus. It also includes the Galerie de l'UQAM, Salle Marie-Gerin-Lajoie, the Alfred-Laliberté studio theater, the general information kiosk, P'tit Café Jasmin, Coop UQAM, the Department of Audiovisual Communications and the Hall of Wood, consisting of works of the old sacristy. The pavilion also houses the Faculty of Arts, Faculty of Communication, the School of Visual and Media Arts, the School of Theatre, School of Media, research units and student associations."

The pavilion is named after Judith Jasmin, a Quebec journalist born in Terrebonne in 1916. Known first as an actress she went on, in the 1940s, to become a prominent and award winning journalist working for Radio-Canada. In 1966 she was appointed Radio-Canada's United Nations correspondent and later its Washington correspondent.