Earlstoke Estate, Islington, London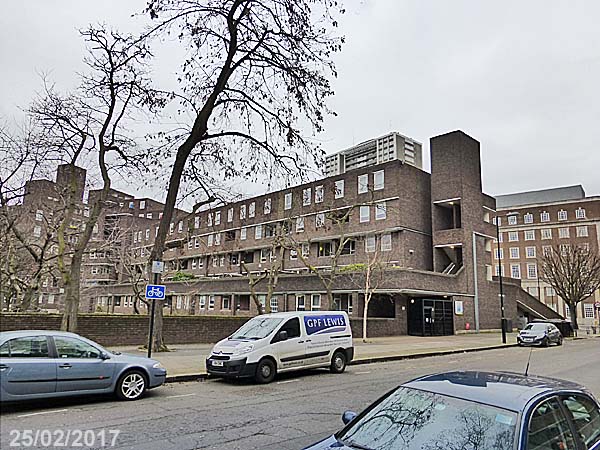 Architect

Renton Howard Wood Levin Associates

Date Built

1972 - 1976

Location

Goswell Road & Spencer Street

Description

Work on the Earlstoke Estate started in 1972 under the direction of Gerald Levin. The project was designed to be a high density development at 160 persons per acre. It comprised 137 dwellings located in two sections called Midway House and Moorgreen House. 42 of the dwellings were to be two-person flats and 95 four to six person maisonettes.




Midway House is the most prominent element of the estate since it steps up in a ziggurat formation to nine storeys.



The "british-history.ac.uk" website explains that, "... There are loadbearing brick walls with reinforced-concrete floor slabs and a podium over garages. Ramps and corner stairwells rise to access decks or walkways on the third and fifth levels, intended to encourage neighbourliness, and to minimize expenditure on lifts. ......




..... The brown brick and the internal streets aimed to preserve the area's earlier scale and intimate ambience. At the same time open space was introduced, with private gardens and enclosed patios, and a large landscaped 'central amenity area' towards Spencer Street. .....



..... There has always been a shop on Goswell Road, and an old people's clubroom has become a community hall."










Close Window