Hotel Delta Centre-Ville, Montreal, Canada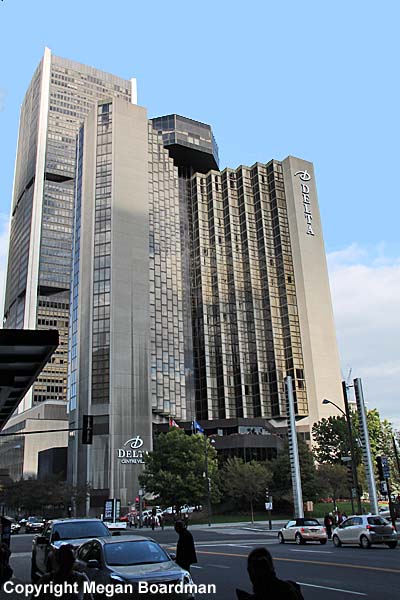 Architect

David, Boulva, Cleve

Date Built

1976
Location

777 University Street

Description


This huge hotel building, with its rotating rooftop restaurant, originally offered visitors 764 guest rooms over 30 floors. Over the years the number of rooms has fallen to 711 but that still qualifies it as enormous. An entry on the "tourisme-montreal.org" website says of the restaurant that,

" It's open on Friday and Saturday evenings for elaborate, themed buffet dinners, and for Sunday brunch– a popular destination for both locals and tourists alike. If you're not familiar with the rotating concept, the circular dining room makes a complete 360-degree spin in about 60 minutes, making it an ideal place to take a tour of the city while chowing down."

They add that,

"If you're going all out, I also suggest one of the fabulous two-story, New York loft-style suites that have awe-inspiring floor-to-ceiling windows."



However, soon after these images were taken the hotel closed. The CBC News website announced on

July 9, 2013

that,

"The 711 rooms at Montreal's Delta Centre-Ville Hotel will be transformed into a student residence by 2014, the hotel chain announced Tuesday. Delta said earlier this month that it would close the hotel on October 31. Campus Crest Communities and Beaumont Partners have joined forces to buy the 33-storey tower located near Old Montreal for $60 million. The new owners will begin reserving the units in September for rental in the fall of 2014. .... Once the renovations are completed, the former Delta Centre-Ville will offer students a gym, library and technology centre. Major universities near the proposed student residence are McGill, Concordia and l'École de technologie supérieure, part of the Université du Québec à Montreal."