The
"wikiwand.com"
website says that Cripps Court, (which incorporates Lyon Court) in Cambridge's Queen's College,
"....was designed by Powell, Moya and Partners and built in stages between 1972 and 1988. Its brutalistic architecture houses a bar, crèche, and gymnasium with squash courts, 171 student bedrooms, three fellows' flats, a solarium, dining hall and kitchens, various function rooms, a large multipurpose auditorium (The Fitzpatrick Hall) and three combination rooms (Junior for undergraduate students, Middle for postgraduates, and Senior for fellows) of the college. It was the benefaction of the Cripps Foundation and was the largest building ever put up by the college. A fourth floor was added in 2007, providing student accommodation and fellows' offices."
The image below shows the dining hall in the centre and the student residence on the right with its recently added fourth floor.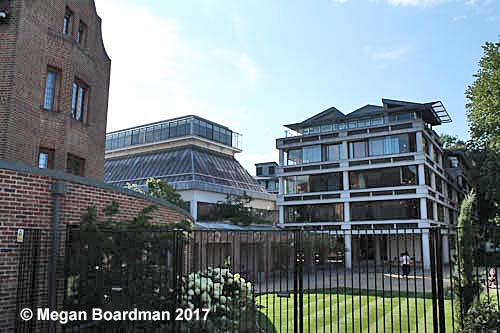 The Fitzpatrick Hall can be seen on the right of the image below. Behind the parked cars is Lyon's Court.