When the CN Tower was completed in 1976 it was the tallest free-standing structure in the world. Built as a communications and observation tower, it became an instant tourist attraction and an icon for the city of Toronto. Located on old railway land near Toronto's Union Station, the tower was built for the Canadian National Railway Company. However, in the 1990s the tower was transferred to the Canada Lands Company, a Crown Corporation.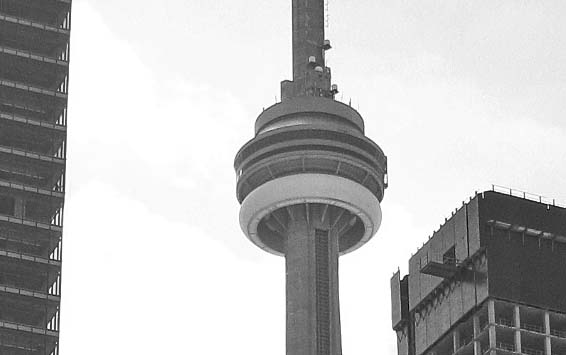 The tower consists of a hollow concrete shaft that accommodates six elevators and a formidable staircase of 2,579 steps. At the top of the shaft is a circular pod containing the public areas. The lower observation area, originally known as the Sky Pod, stands 346 metres above ground level. At 446.5 metres is the Space Deck. The public areas feature a glass floor and for the more adventurous vistors the Edge Walk,

"the world's highest full circle hands-free walk."

Participants walk outside in groups of 6 along a 1.5 metre wide pathway,

"while attached to an overhead safety rail via a trolley and harness system."

For less adventurous visitors the public area also offers a rotating restaurant that makes a complete revolution every 72 minutes. At the top of the tower stands a 102 metre high metal broadcasting antenea that was lowered into place by a Sikorsky Skycrane helicopter.