In 1969 Erling Viksjo completed the construction of the Y Building as a companion to his modernist High Rise block in the government quarter of Oslo's city centre.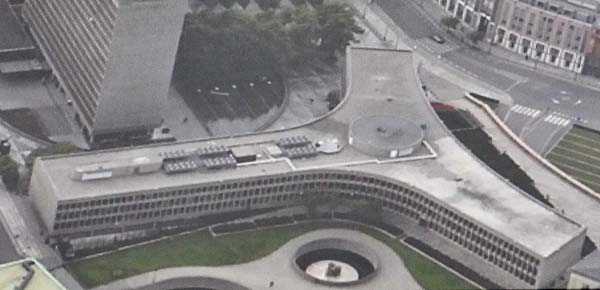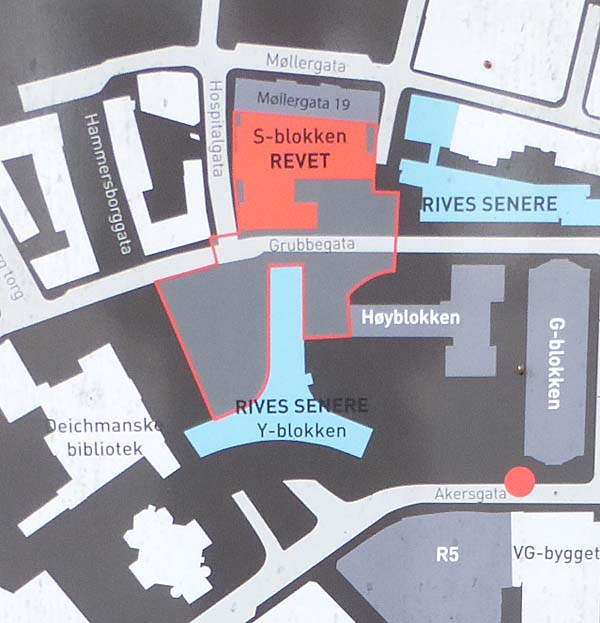 Along with its neighbour, the Y-Blokka was home to government departments until July 22nd, 2011 when a far-right militant racist, Anders Behring Breivik, placed a car bomb near the buildings killing eight people and injuring 209.

On the Akersdgata side of the building is a bus shelter. On the fateful day it stood outside the office of the newspaper VGs at Akersgata 55. It jas become a memorial for the events of thast day as you can read and see below.




The www.roomofpossibilities.com website reflects on the importance of the Y-Blokka by explaining that, "... The architectural and artistic merit of the Y-block, as well as its historical significance, is uncontested. Architect Erling Viksjø conceived the monumental high-rise H-block and the lower Y-block as whole. The high-rise was erected in 1958 with pioneering treatment of the exposed concrete and integrated works by modernist artists, including sensational contributions by Pablo Picasso. In 1969 the overall picture was completed with the sculptural Y-block. Its three curved wings delimit three urban spaces of individual character. Picasso's "Fishermen" facing Akersgata is an epitome of public art."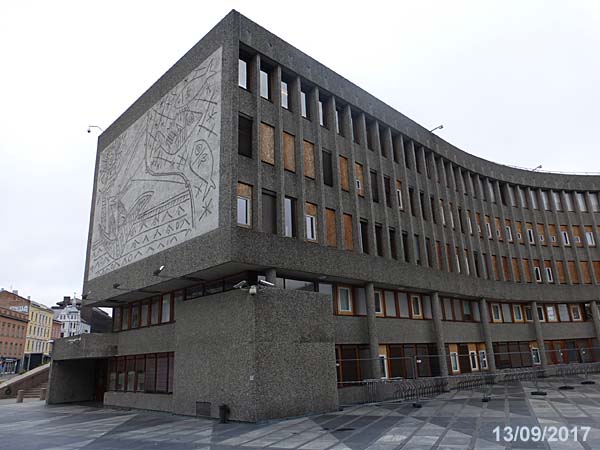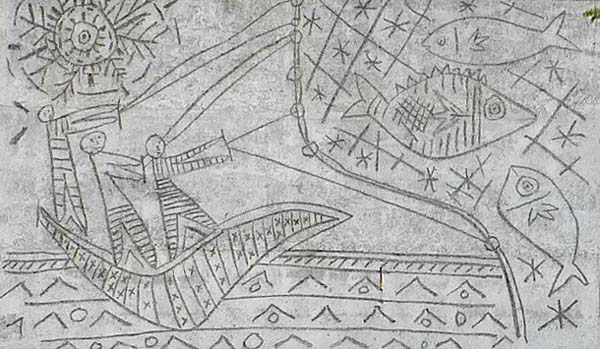 The 20th Century Society add that, ".... The artistic value of Viksjø's two government buildings is immeasurable, especially because of Picasso's five murals, two of which belong to The Y-block. "The Fishermen" is on the façade, facing the busy street Akersgata, and "The Seagull" is in the lobby. The buildings are also pioneering works when it comes to the use of concrete. In 1955, after several years of experimentation, Viksjø and the engineer Sverre Jystad patented "naturbetong", a type of concrete with embedded river gravel. The surface is sandblasted to reveal the stones, and can also create decorative patterns. The artist Carl Nesjar worked with Viksjø to develop this as a new method of making integral art. The decorations are not added onto the building, but rather engraved into its very structure. .....Viksjø's concept of a high-rise combined with a low volume was developed over many years, and he conceived The Y-block's curved shape in the late fifties. Viksjø was inspired by several of Le Corbusier's buildings. The combination of a highrise and a lower volume is also reminiscent of the UN-building in New York (1952), designed by Oscar Niemeyer."



However, today the Y-Blokka is at the centre of a controversy about its future. In 2015 the Norwegian government decided to demolish the Y-Blokka a view at odds with those who regard it as having both architectural and historic value.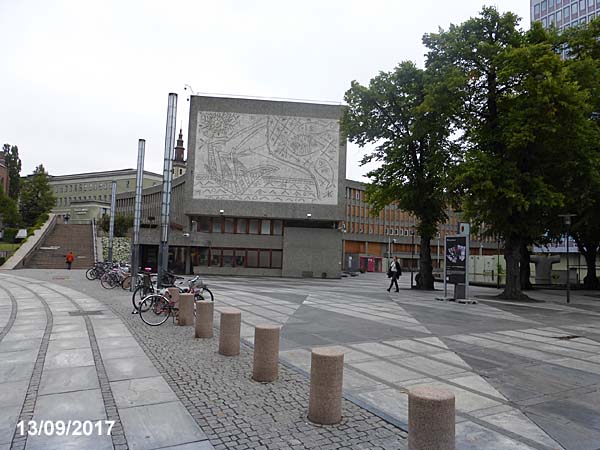 As you can see, when I visited in September of 2017, much of the building was boarded up.