University Chapel of St Benet, Tower Hamlets, London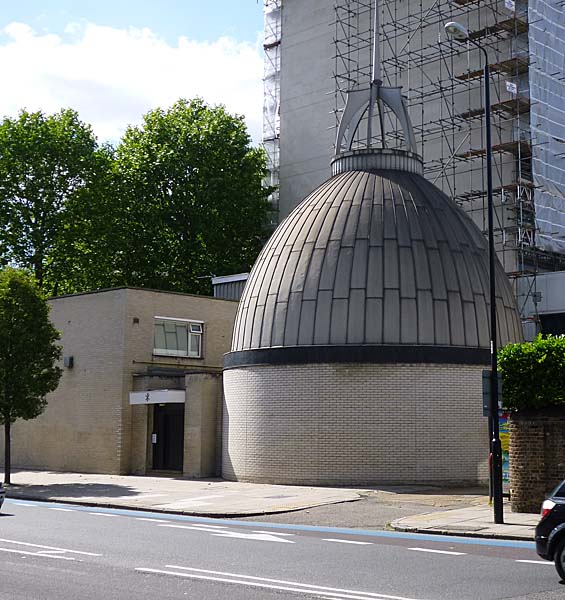 Architect
Playne & Lacey

Date Built
1961 - 1962

Location

Mile End Road

Description


This unusual chapel occupies a site on the campus of Queen Mary University, beside the Mile End Road, that was once home to St Benet's Church built in 1873. That church was seriously damaged by bombing in 1940 and demolished in 1945. English Heritage explain that in 1951 Queen Mary College, "...

obtained possession of its site from the Diocese of London. As a condition of the covenant, the College was required to provide space on the site for a chapel of ease fronting Mile End Road.

" Today, the chapel belongs to the Church of England but it is used by staff and students of the university for meetings, social events, quiet study, meditation, and midweek interdenominational services of worship.



The building is Grade II Listed and primarily for the fact that it is home to a mural entitled

"Apocalypse of St John"

by the Polish-born artist Adam Kossowski. The listing description says of the outside of the building that it, "...

comprises a blind drum of white facing bricks, above which is a rendered concrete ring beam and a tall dome faced in aluminium. At the apex of the dome is an oculus and a hexagonal fleche."

Inside it features a,

"...

circular room with a continuous wall bench of black Staffordshire bricks. ... The dome has a plastered soffit with a fibreglass oculus. Suspended from the apex is a curved timber rail, cusped in plan, to which the lighting is attached. ... The principal feature of the Chapel interior is 'Apocalypse of St John', the continuous sgraffito mural ... The mural is formed of coloured layers of render: a back undercoat and a white topcoat, which was scraped away with various tools to form the design."
Close Window