The Berlin Philharmonie and its companion, the smaller Chamber Music Hall, are shown in the image above, viewed from the top of the Kollhoff Tower. Hans Scharoun's design for the Philharmonie won the competition set up by the Berlin Philharmonic Orchestra who were looking for a new home after their concert hall had been destroyed in 1944. Scharoun's design was highly controversial but construction began in 1960 and was completed in 1963. The Phiharmonie website points out that,

" ... this concert hall with its unique architecture and acoustics has become a model for many others all over the world."



The two buildings were actually conceived at the same time but the Chamber Music Hall wasn't added until the 1980s.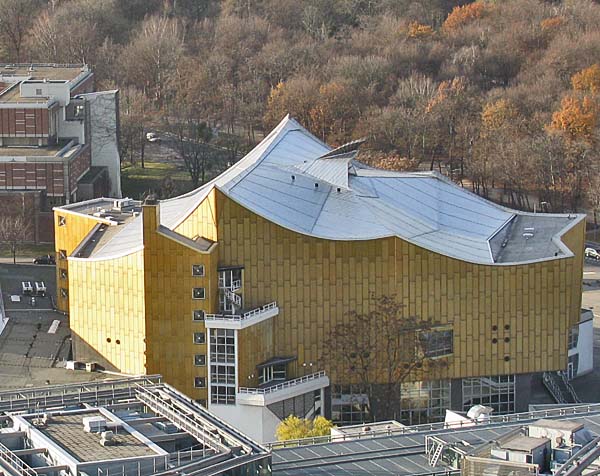 The "Großer Saal" (above) can accommodate 2,400 patrons whilst the "Kammermusiksaal" (below) has 1,180 seats. The two buildings have a connecting lobby.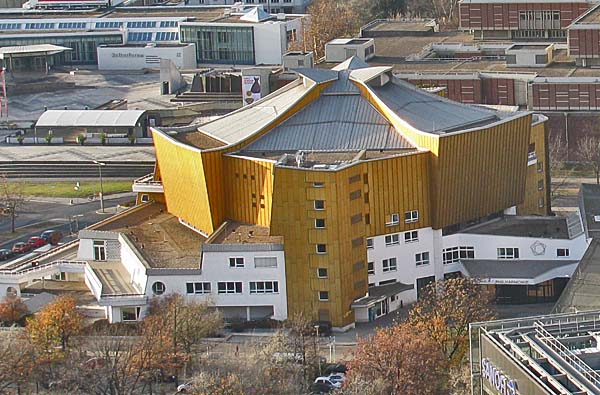 In an article on the "arch-daily" website, Andrew Kroll says of the building, "Scharoun's design was fairly straightforward that focused on placing music at the center of his design, both conceptually and physically. From the center, the music would be amplified and filtered throughout the auditorium. The exteriors dynamic façades compliment and establish a relationship with the Berlin's Tiergarten, which is located immediately to the north of the Philharmonic. The angled and curvy facades mimic the "soft" aesthetic of the forested landscape. The facades yellow hued metal material maintains an earthy balance of landscape, color and form."