Charles Oakley Building, Glasgow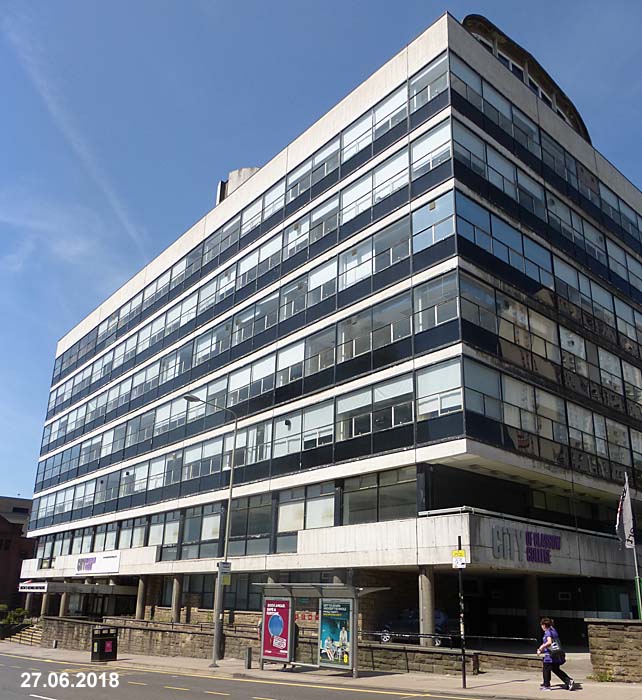 Architect

Peter Williams of Wylie, Shanks & Underwood

Date Built

1959 - 1963

Location

300 Cathedral Street

Description

This Category B Listed building on Glasgow's Cathedral Street, is, as the signs indicate, part of City of Glasgow's College City Centre Campus. The listing informkation for the building describes it as, "... 7-storey with rooftop structures, 22-bay, rectangular-plan, flat-roofed, horizontally-proportioned college building with Le Corbusier style elements of rooftop gymnasium and plant, ......





.... and curtain wall glazing wrapping around all floors above ground. Bull-faced rubble base (with brick to side and rear) jettied onto columnar concrete pilotis and above 1st floor at E and W; bands of Travertine marble slabs and vitrolite. Wishbone-shaped gymnasium with portholes."



The "Statement of Special Interest" describes it as, "... An important example of post-war tertiary educational architecture and an integral part of Glasgow Corporation's re-establishment of educational facilities as part of the rehabilitation of the city-centre. Built as Stow College of Distributive Trades for Glasgow Corporation Education Department. The earliest drawings date from July 1957 but Dean of Guild approval was not granted until 27th February, 1959. The building was officially opened by Lord Craigton on 24th May, 1963. The design bears comparison with Le Corbusier's Unité d'Habitation, Marseille 1947-53, with pilotis and roof terrace housing gymnasium and sculptural ventilator stack as well as horizontal concrete bands (replaced here by vitrolite)."




Close Window