The tunnel leads people below the reflecting pool that encircles the cathedral.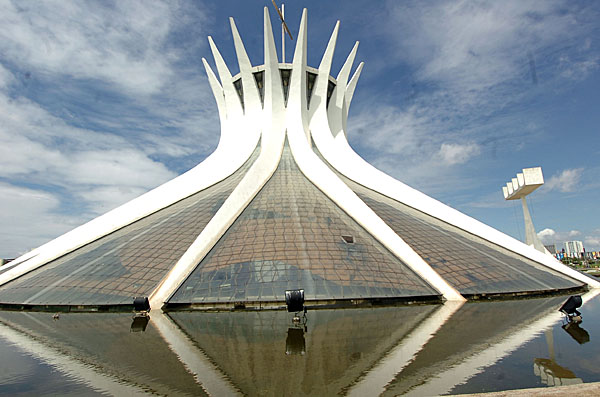 Beside the cathedral stands a 20 metre high bell tower that holds 4 bells.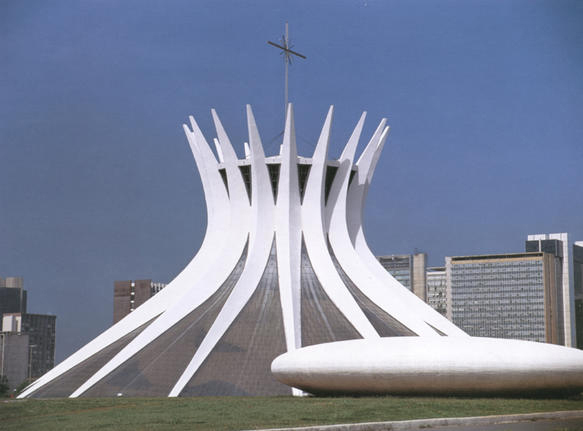 The stained glass is visible at night when the lights are on inside the cathedral.
(The image above was release it into the public domain. This applies worldwide.- details of the license can be seen by clicking on the image - the image is attributed to Tampasteve)

Beyond the altar another flight of stairs leads to a small chapel.
According to the Cathedral's Wikipedia page, the building was given a major renovation on the occasion of its 50th Anniversary of Brasilia. It says that, "... The exterior glazing is being replaced, and the original stained glass designed by Marianne Peretti (which used hand made glass and thus varied widely in thickness) is being replaced by uniform glass cut and assembled in Brazil from plates manufactured in Germany. In addition to the roof repairs, all marble surfaces will be polished, concrete repaired and painted, the angels in the nave will be cleaned and re-mounted, and the bell mechanisms will be replaced. The cathedral will be open to the public during renovation."