A'Dam Tower, Amsterdam, Holland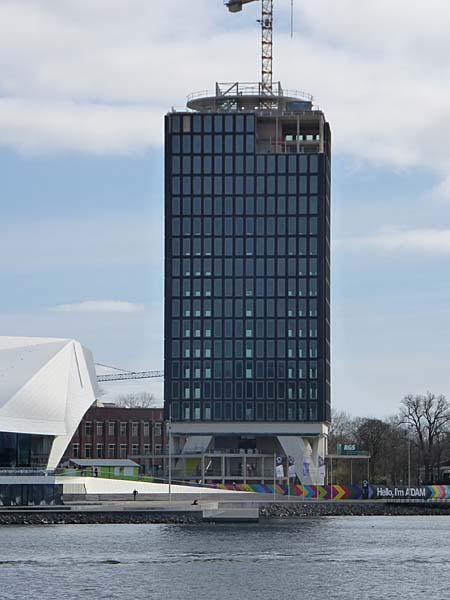 Architect

Arthur Staal

Date Built

Completed 1971

Location

Beside the Eye Film Institute across the IJ from Amsterdam Central Station

Description

When I took the image above in March of 2015, this tower block was in the process of refurbishment and of assuming a new identity. It began life in the 1960s as home to Royal Dutch Shell. The image below from Wikipedia Commons shows it at that stage of its life. This image is licensed under the Creative Commons Attribution-Share Alike 3.0 Netherlands license. Full details of its attribution and license can be seen by clicking on the image.



The 80 metre tower was their offices and the buildings nearby, that are used as a restaurant today, were the staff canteen.





Shell left the building in 2009 and apparently, it continued to be used for a while as a business centre. Work is now underway to completely transform the tower and rename it A'Dam. The tower's website explains that, "... A'DAM is proud of its roots – as it boldly claims the well-known abbreviation of Amsterdam. The brand name A'DAM is also an acronym for 'Amsterdam Dance and Music', which reflects the core business of three of the four partners and anchor tenants: AIR, ID&T and MassiveMusic. ... A'DAM will be redeveloped into a mix of offices, entertainment venues, a hotel and an observation point with a revolving restaurant. A'DAM will be a multifunctional, or mixed-use development"







Close Window