Spa Green Estate, Islington, London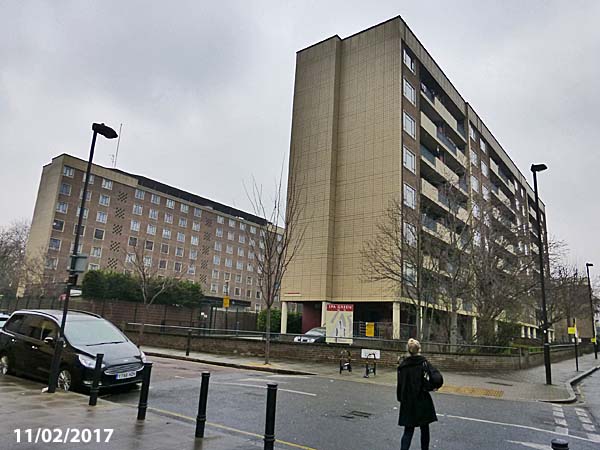 Architect

Berthold Lubetkin - Tecton Group

Date Built

Opened 1949

Location

Rosebery Avenue

Description


The Spa Green Estate comprises three blocks that provided 126 flats when it was opened in 1949 by Herbert Morrison.

The largest of the blocks, Wells House and Tunbrudge House, stand eight stories high and are 190 feet long by 30 feet deep. The third block that sits across from the Sadlers Wells Theatre is called Sadler House (see below). It has a sinuous curvy profile and is a much lower four storeys high.

The municipaldreams.wordpress.com website explains that,

"... Technically, the buildings owe a huge debt to the engineering genius of Ove Arup whose innovative concrete box-frame enabled the clean, spacious lines and lack of internal 'clutter' that were a much remarked-upon feature of the new flats."


"Architecturally, it is Lubetkin's constructivist ideals which come to the fore. The larger blocks were plain in form but brilliantly enlivened by the design and detailing of their facades. The quieter courtyard side of the buildings (where the bedrooms were situated) featured a chequerboard design influenced by Lubetkin's study of Caucasian textiles. .....




..... The outward sides which faced the streets had a rhythmic pattern of windows and balconies and the whole was accentuated and enhanced by a rich use of colour – reds, yellows and blues."



"The estate was too small to warrant an on-site laundry but roof terraces and covered drying areas with specially designed aerofoils to capture and maximise the breeze were provided on both larger blocks."

The Islington Gazette reported at the time that,

"... the new flats will have most of the amenities of pre-war luxury dwellings but will be let at very moderate rentals. The flats had balconies, light and ventilation from both sides, central heating, fitted bathrooms and kitchens. The kitchens were equipped with slide-away breakfast counters and ironing boards, inbuilt waste disposal and large serving hatches to the living room."


Close Window