The Rainbow Bridge derives its name from the fact that the mist from the nearby American & Horseshoe Falls contributes to the creation of rainbows in the area. The bridge spans the Niagara River as it flows downstream from the falls. The gorge is 950 feet wide at this point. It is located 500 feet north of the site of a previous bridge known as the Honeymoon Bridge because of Niagara Falls popularity with honeymoon couples. The Honeymoon Bridge was destroyed by an ice jam in the river in 1938.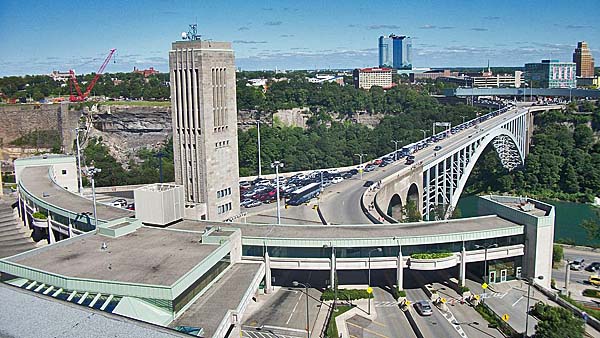 The Honeymoon Bridge's replacement was firmly anchored into solid rock in the walls of the gorge thereby negating the possibility of it suffering the same fate. 5,500 tons of steel were used in the construction creating a roadway over the river made up of two 22 feet wide carriageways separated by a 4 foot median. There is also a 10 foot sidewalk on the side closest to the falls. The road deck stands 202 feet above the river.

A toll is charged for cars and pedestrians to use the bridge. Commercial vehicles are encouraged to use the Queenston-Lewiston Bridge further along the gorge.