Bank of Montreal Headquarters, Montreal, Canada
Architect

Marshall & Merrett et Barott

Date Built

Completed 1959

Location

129 - 155 St Jaques Street

Description

This building is a "modern" extension to the Bank of Montreal's historic original head office that sits next door looking across Place d'Armes to the city's cathedral. The "Pantheon-like" old building was built in 1847. This extension, that faces on to St Jaques Street, was built just over a century later.

Both buildings bear different versions of the bank's crest. The old building features a beautiful carving within the pediment above the entrance (see below) The crest features the bank's motto, "Concordia Salus" meaning "In Unity Prosperity". The heraldic emblem features a beaver at the top and below a shield divided by the cross of St Andrew and within the quarters are a rose for England, a thistle for Scotland and a shamrock for Ireland and a second beaver. Below is a horn of plenty and on either side are aboriginal people supporting the crest and further away a sailor and a settler.



The new building displays a plainer version also above the entrance but this time inside and behind a large window.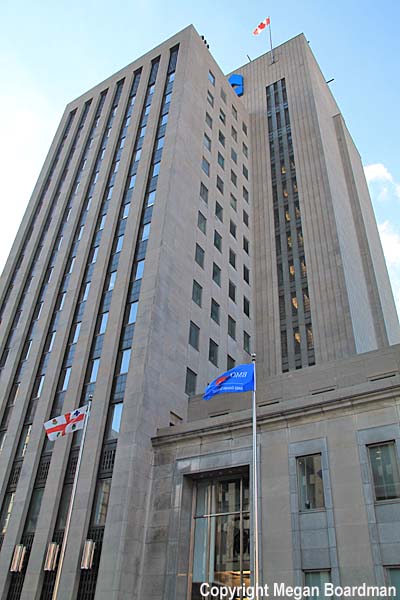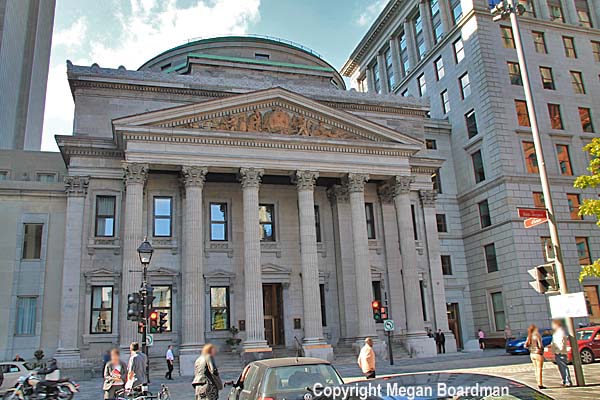 Close Window