West Central Police Station, London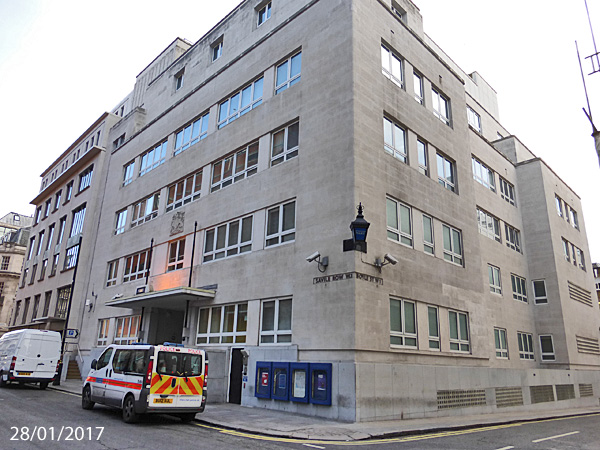 Architect


Sir John Burnet, Tait & Lorne in collaboration with G. M. Trench, chief architect of the Metropolitan Police

Date Built

1939 - 40

Location

27 Savile Row, Mayfair, London W1S 2EX

Description


According to the british-history.ac.uk website, "... This building was designed and erected in 1939–40 by Sir John Burnet, Tait and Lorne in collaboration with the Chief Architect of the Metropolitan Police, G. M. Trench. It is a six-storeyed building with a front of Portland stone, the fifth and sixth storeys being set well back. The front of the four lower storeys is very plain with long horizontal bands of windows divided by baulks into alternately wide and narrow groups. In the centre of the ground storey is the wide main entrance with a short flight of steps in front and a deep canopy above."



Toddenham and Bennett, consulting engineers, have an article on their websdite about refurbishments to the building. They say that, "... The refurbishment of this building by the Metropolitan Police involved


a) The erection of a new 9 storey steel framed structure with piled foundations to fill in the
original internal light-well.
b) Building a new floor above the existing building and strengthening the existing
structure to support this,
c) The construction of many new staircases, ramps and trimming beams and
d) Modification of the existing structure to incorporate additional services including air
conditioning."

Close Window