Sundt Varemagasin, Bergen, Norway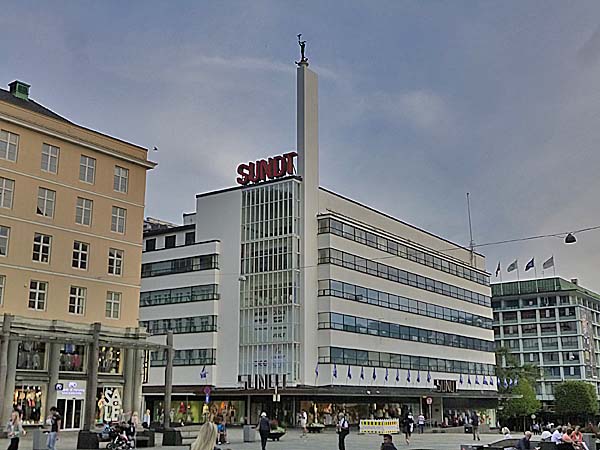 Architect
Per Grieg

Date Built

1938

Location

Torgallmenningen

Description

Sundt Varemagasin, or Department Store, was designed by Per Grieg and completed in 1938. The Norwegian Encyclopedia says that it is, "... clearly inspired by the international functionalism, while the dimensions are well adapted to the neoclassical architecture of the neighborhood. The building was awarded Houen Fund Endowment for outstanding architecture in 1961."



With entrances on Starvhushjørnet, Torgallminningen and Ole Bulls plass this large building ranges over 6 floors and has a basement that extends below the sidewalk. In typical Modernist style, it features continuous ribbon windows and is topped-off by a 40 metre high pedestal on top of which is a 3.5 metre statue of Mercury, the god of trade, profit and commerce.





The statue is the work of Sophus Madsen.

Close Window