This wonderful 1930s art deco inspired building started life as council housing. Apparently it was once known as the "Bullring", reflecting the configuration of the buildings but observed from the air it looks more like a giant horseshoe.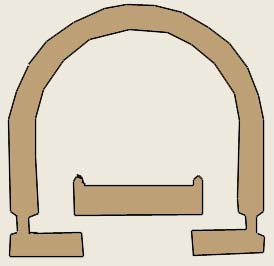 Unlike many other tenements of its era, this Grade II Listed building is not only still standing but it has been completely refurbished, and today it is a hall of residence for the University of Liverpool. It has its own website which says of it that, "This place is the stuff of legend amongst Liverpool students!... We've added our own stylish touches to a property crammed full of original features. ... Built around an expansive central courtyard, at St Andrews Gardens we pride ourselves on our friendly, intimate atmosphere and strong community spirit. All of our students benefit from living in safe, secure surroundings with the peace of mind that our dedicated, knowledgeable hospitality and maintenance team are on site to meet their accommodation needs."

An interesting article by Marc Waddington appeared in the Liverpool Post in August of 2012 about the building's architect, John Hughes. It was entitled "How Liverpool won Olympic gold – in town planning!" In the article Waddington explains that between 1912 and 1948 art competitions were a regular feature of the Olympic Games and that Hughes' entry of a design for a Sports and Recreation Centre with Stadium for Liverpool was awarded a gold medal. The proposed scheme was never built. The article says that, "Little is known about Hughes, who was born in 1903 and died in 1977. ... City historian Steve Binns said it was likely that Hughes was a Fellow of the Liverpool School of Architecture under the tutelage of the famous Charles Reilly."