The Ritz, Lincoln, UK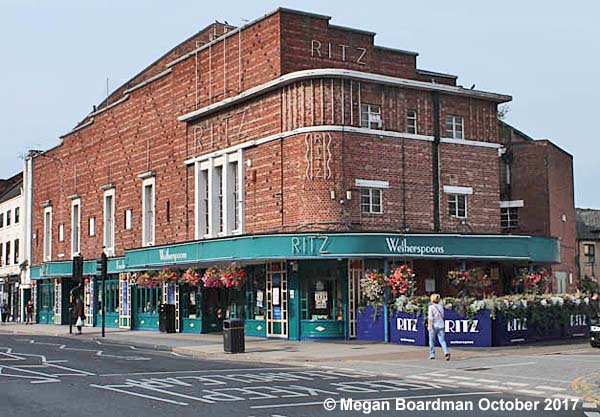 Architect

Leslie C Norton for the Segelman family's Central Pictures

Date Built

1937

Location

High Street

Description

The Ritz opened its doors for the first time on February 22, 1937. It had a seating capacity of 1,750 with the bulk of those seats in the stalls but with 510 in the circle. It survived WWII with minimal bombing damage and in 1954 it entered the exciting world of Cinemascope showing Richard Burton in "The Robe". Two years later the cinema was purchased by the Rank Organization and it was renamed The Odeon.

In 1981 the cinmema closed and remained closed until Barry Stead, described as an independent exhibitor, took over 3 years later and reclaimed the name The Ritz. Lots of changes followed including the conversion into a triple screen format in 1995 but apparently just a year later The Ritz closed again.

Weatherspoons moved in to occupy the ground floor and the circle and projection area was closed off. However, in another attempt to revive the cinema it reopened in 2013 as a 450 seat facility set in the original cirlce area. "The Lincolnite" newspaper on August 31, presumably of 2017, reported that The Ritz had closed down. The newspaper contacted Peter Genders, the man who had restored it in 2013, and he told them that, "It has closed down. 'The lease has expired and we weren't in a position to renew it, which is a shame because it's been a fantastic project. It's sad that it's had to come to an end. I believe now it may be reused for storage but I am not completely sure.'"


Close Window